The Organ Project : Organ Recital given by Dr David Price
Our 2021 Organ Recital series continues with a recital given by David Price, Organist & Master of the Choristers at Portsmouth Cathedral.
About this event
David Price is Organist and Master of the Choristers at Portsmouth Cathedral. Before he came to Portsmouth he was Assistant Organist of Ely Cathedral having previously held Organ Scholarships at Rochester Cathedral and Croydon Parish Church.
Since David has been at Portsmouth the profile of the Cathedral's music has been raised to new heights through twenty international tours across Europe, numerous recordings, many flagship events with the Royal Navy and the City of Portsmouth as well as regular work for the BBC and ITV. The daily round of worship is now led by three cathedral choirs involving boy choristers, a dedicated team of Lay Clerks and Choral Scholars, girl choristers and a choir of mixed adults. The cathedral organ has been extensively refurbished and enhanced under his care culminating in the addition of a set West End en chamade Trumpets in 2017. In 2019 Portsmouth Cathedral Choir was highlighted in the BBC Music Magazine for their new CD of Advent and Christmas carols. Verbum caro.
David has just completed four terms on the Council of the Royal School of Church Music. He served two terms on the Association of English Cathedral's Music & Liturgy Committee and one quinquennial on the Church of England's General Synod.
The University of Portsmouth conferred David Price with an Honorary Doctorate of Music in recognition of the significant contribution he has made to the development of music at the Cathedral and for his contribution to the cultural life of the city. In 2013 he was elected to an Honorary Fellowship of the Guild of Church Musicians and presented with this at a ceremony at Canterbury Cathedral and in 2021 was elected to an Honorary Fellowship with The Royal School of Church Music.
Recent recital venues for David include Westminster Abbey, Wells Cathedral, Hereford Cathedral, Chambery Cathedral and Alpe d'Huez in the French Alps and Trinity Church, Copenhagen in Denmark. His St John Passion for Good Friday was published by Encore Publications in a series of the gospel passions alongside John Scott, Philip Moore and Richard Lloyd.
-----
Please do join us for a socially-distanced concert and enjoy the opportunity to listen to our temporary organ (Viscount Regent 356) in concert. Console cameras and our large projector screen will be installed for a close up of the performance.
Our J.W. Walker & Sons pipe organ is currently being restored by Nicholson & Co. Ltd, and we hope to celebrate its re-dedication in early 2022. We still have some way to go on our fundraising; please consider 'playing' and sponsoring a pipe: https://orgproj.co/MxTC.
Donations in aid of The Organ Project (theorganproject.org) - c/o St Mary's Church Music Foundation (registered Charity no. 1020088)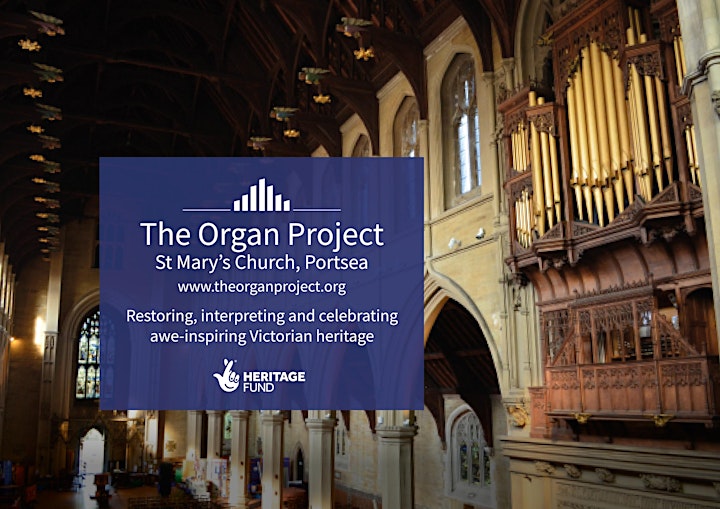 Organiser of The Organ Project : Organ Recital given by Dr David Price