Description
Alan Moore is a major contemporary British writer: perhaps the world's leading writer of comics and graphic novels, credited with revolutionising the medium; the 'original writer' for several major science fiction or historical (or, in one case, both) films; the author of a widely-reviewed novel, Jerusalem (2016) and a major (counter-)cultural figure.
The aim of this academic conference is to attend to his writing as writing: to examine what core ideas influence him; his influences and antecedents; to explore questions of form, mode and genre; and to investigate his wider role and context as writer.
Speakers include:
Dr Harriet Earle (Sheffield Hallam University)

Professor Robert Eaglestone (Royal Holloway, University of London)

Dr Maggie Gray (Kingston University)

Dr Alex Naylor (http://alexfarebrothernaylor.com/about/)
Event Programme
1.00-2.15pm
Dr Maggie Gray: 'Alan Moore, Original Cartoonist'
Dr Harriet Earle: 'Uniformity, Panels and Sexual Violence in Watchmen'
2.15-2.45pm
Break
2.45-4.00pm
Professor Robert Eaglestone: 'The Ends of Alan Moore'
Dr Alex Naylor: 'Duration in Promethea'
4.00-4.15pm
Break
4.15-5.00pm
Panel of speakers
5.00-6.00pm
Book launch:
Dr Maggie Gray, Alan Moore, Out from the Underground: Cartooning, Performance, and Dissent (Palgrave, 2018 ) in conversation with Alex Fitch (comics scholar and host of the UK's only broadcast radio show on comics, Panel Borders on Resonance 104.4FM).
The conference is free to attend but registration is required. Please register via this Eventbrite page.


This event is supported by the Humanities and Arts Research Institute at RHUL. The Institute (HARI) is central to Royal Holloway's vibrant interdisciplinary research culture. It fosters and showcases the intellectual and creative energies of academics across all stages of their career. HARI stimulates and supports research of the highest quality across disciplinary and institutional boundaries and promotes the exchange of knowledge and expertise with diverse public organisations, the creative industries, the performing arts and festivals. For more information please visit https://www.royalholloway.ac.uk/hari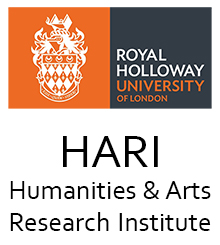 https://www.eventbrite.co.uk/e/the-original-writer-reading-alan-moore-tickets-41343453382