The Origins and Dynamics of Genocide: Political Violence in Guatemala

Tuesday, 25 October 2016 from 18:00 to 19:30 (BST)
Event Details
The Origins and Dynamics of Genocide:
Political Violence in Guatemala

Professor Roddy Brett
Professor of International Relations
Universidad del Rosario, Bogota, Colombia.
Chair: Dr Kieran Mitton, CSDRG, War Studies, King's College London.

Join the Conflict, Security and Development Research Group (CSDRG) for the launch and discussion of Professor Roddy Brett's in-depth examination of the dynamics of genocide in Guatemala.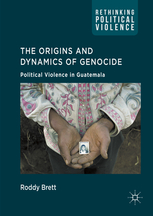 Abstract: 
In May 2013, former de facto president of Guatemala, General Efraín Ríos Montt, was indicted for genocide and crimes against humanity within Guatemala's domestic courts. This book rigorously documents and insightfully explains the genocide perpetrated by the Guatemalan state against indigenous Maya populations within the context of its counterinsurgency campaign against leftist guerrillas between 1981 and 1983, bringing to light a genocide that has remained largely invisible within both academic disciplines and the practitioner sphere. Based upon over a decade of ethnographic research, including in survivors' communities in Guatemala, this book documents the historical processes shaping the genocide by analysing the evolution of both counterinsurgent and insurgent violence and strategy, focusing above all on its impact upon the civilian population. The research, convincingly framed within key theoretical scholarship from genocide studies, peace and conflict studies and comparative politics (how and why people rebel), clearly evidences the impact of political violence upon non-combatants, how military and insurgent strategies gradually implicate civilians in conflict and the strategies civilians may adopt in order to survive them.
Speaker Profile:
Roddy Brett is Professor of International Relations at the Universidad del Rosario, Bogota, Colombia. He is the Director of the Ph.D. in Political Studies and a member of the Janus Group for Interdisciplinary Studies of Peace, Conflict and Post-Conflict. Prior to this post, he was a Lecturer with the School of International Relations and directed the Masters Programme in Peace and Conflict Studies. He is a member of the Centre for the Study of Terrorism and Political Violence. Professor Brett has lived for twelve years in Latin America, principally in Guatemala and Colombia. 
His work as a practitioner is in the fields of conflict analysis, indigenous rights, political violence and genocide, post-conflict reconstruction, and human rights. He has published a total of eight books, including monographs and co-edited volumes, as well as articles on these themes. His most recent book, The Post-Conflict Legacy of Genocide: Political Violence in Guatemala was published by Palgrave MacMillan this year. He will publish a history of Colombia's FARC guerrilla with Pennsylvania University Press in 2017. He has acted as Advisor to the United Nations Development Programme in both Colombia and Guatemala, and to the Office of the United Nations High Commissioner for Human Rights in Guatemala. Dr. Brett also served as Advisor on Indigenous Affairs to the Norwegian Embassy in Guatemala.Dr. Brett worked with the Centre for Human Rights Legal Action in Guatemala, initially as Field Investigator, and subsequently as Coordinator of the Department for Justice and Reconciliation (DEJURE). In this capacity, he was a member of the original team that prepared the evidence for and political strategy of the legal case filed against three former presidents of Guatemala and their military high commands of the 1980s for genocide, war crimes and crimes against humanity. This led to the conviction by a Guatemalan court of former dictator General Efraín Ríos Montt in May 2013 for eighty years for genocide and crimes against humanity.Dr. Brett is at present advisor to the United Nations System in Latin America, at this moment in Colombia, in particular in themes of peacebuilding and conflict transformation.He has just finished leading a UN investigation into the role of the delegations of victims in the current peace talks between the Santos government and the FARC in Colombia.
He holds a position of Visiting Professor at the Autonomous University of Madrid, Spain and is a member of the Academic Advisory Board for the International Centre on Non-Violent Conflict, in Washington D.C., and of the Advisory Council of the Institute of Humanitarian Studies of the United Nations Office for the Coordination of Humanitarian Affairs, in Bogota, Colombia.
---
The 'Approaches to Understanding Violence Seminar Series' is a programme of multidisciplinary lectures and events on the subject of violence, part of a CSDRG project led by Dr Kieran Mitton. Find out more here: www.kcl.ac.uk/csd
When & Where

Weston Room
The Maughan Library
Chancery Lane
WC2A 1LR London
United Kingdom


Tuesday, 25 October 2016 from 18:00 to 19:30 (BST)
Add to my calendar
Organiser
Conflict, Security & Development Research Group
The Conflict, Security and Development Research Group (CSDRG) is based within the Department of War Studies, King's College London, the largest and most successful European university group of scholars focused on research relating to all aspects of war, peace, security and international relations past, present and future.

Since 2005, CSDRG has undertaken a wide range of research, policy, advisory, teaching and training activities relating to conflict, security and development, enabling it to serve as a true bridge between academic scholarship and real world decision-making in these fields.

The Origins and Dynamics of Genocide: Political Violence in Guatemala