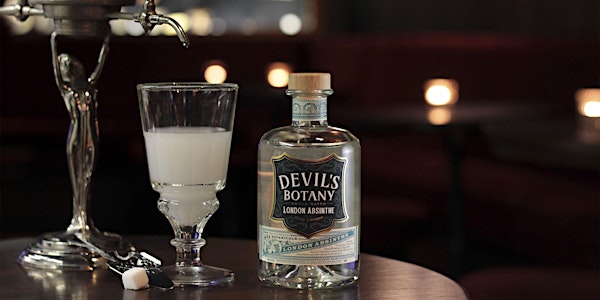 The Origins & Rituals of Absinthe: A Virtual Lecture & Tasting
Explore the Origins & Rituals of Absinthe with a Virtual Lecture & Tasting
About this event
Join Directors of The Last Tuesday Society & Founders of Devil's Botany, Allison Crawbuck & Rhys Everett, for a virtual lecture as they explore the origins & rituals of absinthe.
Guests are invited to channel the notorious spirit of the Belle Époque. The event will begin with a virtual absinthe tasting of the award-winning Devil's Botany London Absinthe, and look into how the mysterious spirit has been prepared for centuries.
After everyone's senses are well lubricated, the duo will explore tales of the absinthe's tantalising past, from its origins as a cure-all elixir to a delightful aperitif, before eventually enduring a near century-long ban.
General admission includes a ticket to the virtual lecture. Guests are encouraged to have a glass of Devil's Botany London Absinthe in hand during the event to bring the tales of this exquisite elixir to life.
Tasting sets of Devil's Botany London Absinthe are available via: www.devilsbotany.com/shop.
Discount codes will be sent with your e-ticket for 15% off absinthe tasting sets or 10% off full 500ml bottles of Devil's Botany London Absinthe.
Email info@devilsbotany.com if you have any questions regarding this event.
Event is suitable for 18+ only.
--
About the Hosts
Allison Crawbuck and Rhys Everett have always shared a passion for unearthing curious tales and rendering them in liquid form. The duo are co-owners of The Last Tuesday Society's cocktail bar in East London, transforming Hackney's best-kept secret into the city's favourite absinthe and cocktail haunt. In 2019, it was voted the Best Bar in London at the 7th annual Design My Night Awards by a public vote of over 180,000 Londoners, and in 2020, their absinthe menu was shortlisted for Imbibe's Specialist List of the Year.
In December 2020, Allison Crawbuck and Rhys Everett launched London's first Absinthe distillery: Devil's Botany located in the city's east end. They are also authors of Spirits of the Otherworld: A Grimoire of Occult Cocktails & Drinking Rituals, published by Prestel/RandomHouse (Sep 2021 | ISBN 9783791387147).