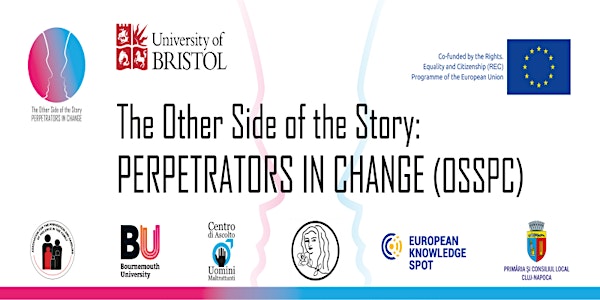 The Other Side of the Story:Perpetrators in Change-Early Intervention Focus
Location
Wills Hall
Parrys Lane
Stoke Bishop
BS9 1AE
United Kingdom
The OSSPC project has focused on capacity building work around early intervention with domestic abuse perpetrators.
About this event
The OSSPC project has been a 2.5 year European Commission funded project which has focused on capacity building work focusing on early intervention perpetrator identification and support. We can share findings from a unique cross-cultural comparison between policy and practice in the UK, Cyprus, Greece, Italy, Romania. In this conference we will share the international research findings, learning from our capacity building training, and national roundtable which resulted in policy recommendations. The policy recommendations will be officially launched at this event.
Please note, this is a hybrid event with two types of ticket available. Please ensure you select the correct type of ticket when registering for this event. Joining details will be sent to those with Online Attendance tickets 24 hours prior to the event.
Speakers to include:
Dr Nathan Eisenstadt, REPROVIDE Senior Research Associate, Bristol Medical School
Dr Jane Healy, Deputy Head of Department for Health and Social Sciences, and Lecturer in Criminology, Bournemouth University
Dr Jade Levell, Lecturer in Criminology and Gender Violence, University of Bristol
Dr Teri Cole, Principal Academic in Forensic Psychology
Schedule
9-9:30- Coffee
9:30-10- Dr Jade Levell. Welcome and introduction to the OSSPC project. Outline of key tensions arising from our research into early intervention work with perpetrators and the role of the coordinated community response
10-10:20 – Dr Jane Healy. Service adaptations in perpetrator work in UK, Greece, Italy, Romania, and Cyprus during the COVID-19 pandemic
10:20-10:40 Dr Terri Cole. Findings from our capacity building professional training including professional understanding of the Istanbul Convention (WP3)
10:40-11:00 Jeremy Hawsworth. Early intervention work with perpetrators over 55 years old
11:00-11:20 Break
11:20-11:40 Dr Nathan Eisenstadt. Are you sitting comfortably? Discomfort as pedagogical strategy with perpetrators domestic abuse
11:40-12:10 Safelives- Safe Young Lives and Men and Boys Voices programmes
12:10-1 Whole UK OSSPC team. Launch of our national policy recommendations arising from our stakeholder roundtable