Location
Delta Hotels by Marriott Warwick
Stratford Road
Budbrooke
CV34 6RE
United Kingdom
The Owners' Network: You'll get a TON out of it
About this event
"Transform your busyness into a thriving business". Key note speech by Steven Watson.
Steven Watson, author of Time Ltd, will introduce you to the Pyramid of Time Mastery and show you how to develop Time Habits for success.
Achieve your goals in 2022; it's about time.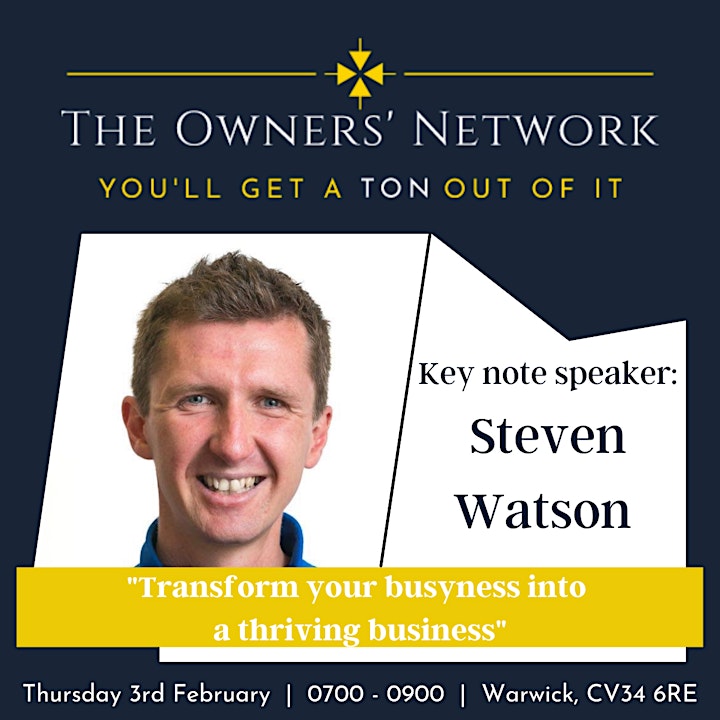 About The Owners' Network
Welcome to The Owners' Network. We are an exclusive group of established business owners who are passionate about engaging and inspiring our local community of Business Owners in Coventry & Warwickshire.
The Owners' Network meets on the first Thursday of each month at Delta Hotels Warwick from 0700 - 0900. Meet with likeminded business owners, learn from our outstanding guest speakers and enjoy a hearty breakfast.
Entry to The Owners' Network is by invitation only - we will contact each applicant by telephone, so please look out for our call!
To welcome new members, we offer your first session for free. Thereafter The Owners Network is £50 + VAT per month payable by Direct Debit. Alternatively, £65 + VAT on a Pay As You Go basis.