Event Information
Location
Delta Hotels by Marriott Warwick
Stratford Road
Budbrooke
CV34 6RE
United Kingdom
The Owners' Network: You'll get a TON out of it
About this event
"From Bankruptcy to Buzz Aldrin and a Guinness World Record". Key note speech by Simon Waterfall.
After founding and scaling a successful business over 13 years, Simon had a thriving business with a £2m turnover employing 40 people. Within four days, he had nothing.
Simon tells his emotional roller-coaster journey from bankruptcy to running a global fundraising initiative where he rubbed shoulders with an Apollo astronaut, Buzz Aldrin, notable celebrities, and the world-renowned Professor Stephen Hawking.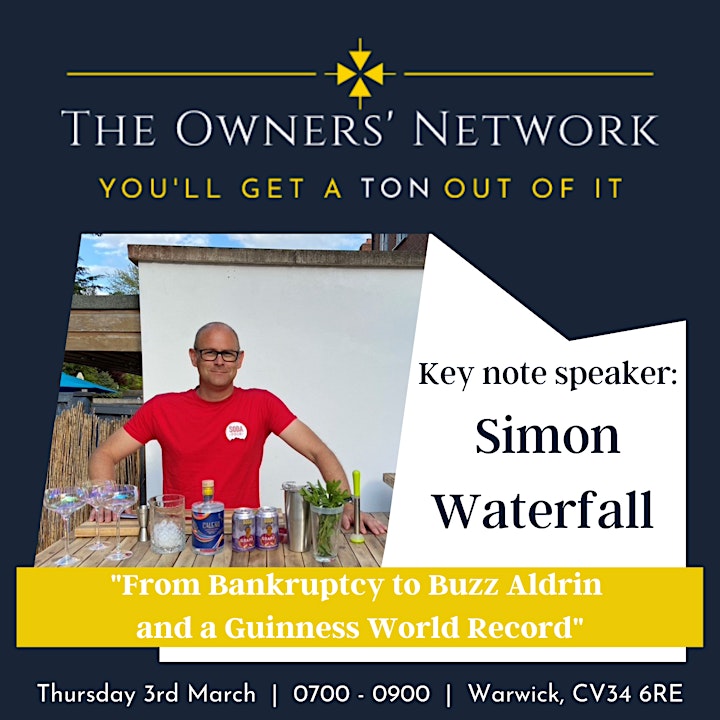 About our key note speaker
Simon has been working within the retail industry for over 30 years. From founding and scaling a fresh-food business, a year volunteering for a flying disabled charity running a global fundraising initiate, then to Tesco heading up an entrepreneurial/innovation programme to COO of Spoon Cereals before landing his dream role as Chief Soda Maker (MD) for Soda Folk. He sees himself as the next custodian on the company's journey.
After Soda Folk's founder Ken stepped back having moved to New York, Simon stepped in to fill his shoes, driving the business forward onto the next phase of its journey. Soda Folk, with its distinctive Americana style soda's, is going through a period of unprecedented growth having doubled its turnover since Simon took over (a real challenge given a world-wide pandemic). The unique brand pillars, Good Soda, Good Folk, Good Deeds, are grounded in 'purpose', seeking to celebrate the unsung heroes amongst us whilst driving forward the revolutionary craft soda category.
About The Owners' Network
Welcome to The Owners' Network. We are an exclusive group of established business owners who are passionate about engaging and inspiring our local community of Business Owners in Coventry & Warwickshire.
The Owners' Network meets on the first Thursday of each month at Delta Hotels Warwick from 0700 - 0900. Meet with likeminded business owners, learn from our outstanding guest speakers and enjoy a hearty breakfast.
Entry to The Owners' Network is by invitation only - we will contact each applicant by telephone, so please look out for our call!
To welcome new members, we offer your first session for free. Thereafter The Owners Network is £50 + VAT per month payable by Direct Debit. Alternatively, £65 + VAT on a Pay As You Go basis.
Date and time
Location
Delta Hotels by Marriott Warwick
Stratford Road
Budbrooke
CV34 6RE
United Kingdom