Event Information
Location
Webb Library
West Court
Jesus College, Jesus Lane
Cambridge
CB5 8BQ
United Kingdom
Description
Despite its present-day abuse as a universal symbol of democracy or local symbol of nationhood, the Athens Parthenon has enjoyed a conspicuously diverse history, more so perhaps than any other building in the world. The scrubbed white columns we immediately recognize tell little of the temple's varied afterlife as first an Orthodox and then a Catholic cathedral, next a mosque, and finally an archaeological monument.
Since the nineteenth century, this complex history has sparked divisive debate: should the remnants of each phase be preserved, or erased in order to expose and privilege the Parthenon's original, Periclean form? Needless to say, the monument's nearly four centuries of Islamic use have evoked little interest.
At a time when the whole Acropolis complex is acquiring a new skin and even shape, why might the Muslim strand in the Parthenon's history and identity be retrieved and meaningfully incorporated in the interpretation of the building for its millions of visitors? Join us for this Cambridge Festival of Ideas talk.
Speaker: Dr Elizabeth Key Fowden
Sparked by an early interest in Renaissance Italy, Elizabeth Fowden studied Classics, specializing in late antique history and material culture in the Eastern Mediterranean and Middle East. Her PhD thesis, supervised by Peter Brown at Princeton University and later published as The Barbarian Plain: Saint Sergius between Rome and Iran (Berkeley 1999), examines religious, political and architectural crosspollination in late antique and early Islamic Syria. The after-life of artistic forms and religious ideas freed from their original contexts is a dominant theme throughout her teaching and research. In her current book project, The Parthenon Mosque, Fowden applies her interest in Islamic re-formulation of the Classical and Christian inheritance to the early modern conjunction of Greek, European and Ottoman views of Athens' most celebrated building.
From 2016-2021, Fowden is Senior Research Associate on the ERC-funded project 'Impact of the Ancient City' with Andrew Wallace-Hadrill (PI), Classics, and Amira Bennison (Advisory Board), FAMES.
How do I get to West Court, Jesus College?

The entry to West Court is directly on Jesus Lane, near to the intersection with Park Street. Please DO NOT ENTER through the main entrance to the Porters' Lodge, known as "the Chimney". A map is included below to assist you in finding our entrance.
Our what3words address is tree.heat.bravo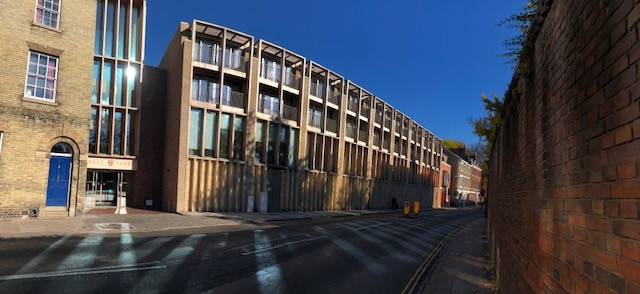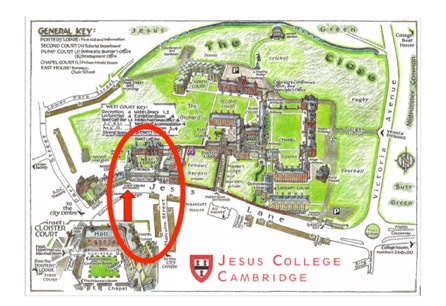 What transport options do I have?

There is no on-site car parking at Jesus College for those attending our events. There is limited on-street parking outside the College and the Park Street Car Park is very close. There are also multiple Park and Ride options to the City Centre, a short walk from the College.
A regular train services runs to Cambridge from London's Kings Cross Station, London Liverpool Street Station and many other mainline UK stations. The College is located approximately 2 miles (3.2 kilometres) from the railway station. Buses run about every 10 minutes and there is a taxi rank outside the station and one here in the city centre for your return.

What time do I need to arrive?
We ask that you arrive 15 minutes before the event and doors will close at the face time on your ticket. We may not admit latecomers, especially if seating is full or filming is taking place. Our staff will be on site to validate tickets and so it would be helpful to have either an electronic or printed form of your ticket with you. Please also bring photographic ID for validation.
Does my ticket guarantee entry?
Unfortunately not everyone who books a ticket turns up on the day and so we have to over-issue tickets to ensure a full event. We decide carefully how many tickets to issue as it is important to have a full event but the last thing we want to do is disappoint people. In order to be as fair as possible we admit ticket holders on a first come, first served basis. It is helpful to us if you cannot attend that you cancel your ticket. More accurate numbers mean less overbooking in the future and reduce the risk that people with tickets will be denied entry. For some events we may be able to ticket at the door and this will be advised to the waitlist. Please join the waitlist if the event is sold out and we will let you know if this will be an option.

What can I bring with me?
There are coat hooks around our building, but there are no storage or coat minding facilities and we cannot take any responsibility for items left unattended. Mobile phones are allowed, but must be silenced or placed on airline mode during the event. Flash photography is prohibited.
What if I have access requirements?
West Court is access friendly and there are hearing loops. Please let us know about any access requirements at least three days in advance of any event via if-coordinator@jesus.cam.ac.uk. There is limited permit disabled parking, and again this must be prearranged. The building has extensive access-friendly bathroom facilities, and some limited seating in the waiting area.
Is there food or drink available?
For refreshments, our College Cafe or Bar will often be open across the courtyard selling drinks and food around our events. Details of the opening times for the cafe can be found at https://www.jesus.cam.ac.uk/college/life-jesus/food-and-drink/cafe and for our bar can be found at https://www.jesus.cam.ac.uk/college/life-jesus/food-and-drink/bar.
Filming, social media and data protection
The Intellectual Forum often films and live-streams its events. Notices about any filming will be placed around the venue, and if you have any concerns please contact if-coordinator@jesus.cam.ac.uk.
By signing up to attend this event, those attending give permission to the Jesus College Intellectual Forum and those authorised by Jesus College to record images and/or sound at the event by photograph and/or video/film and/or recording. A full waiver we be required in the ticketing process.
You can find information on how we manage your data at https://www.jesus.cam.ac.uk/college/about-us/data-protection.
How to cancel your ticket
Many of our events are oversubscribed and we operate a wait list. In order to allow the maximum number of people to be in attendance, we ask that if you find you can no longer attend, please cancel your order. Instructions on how to cancel your ticket can be found here: https://www.eventbrite.com/support/articles/en_US/How_To/how-to-cancel-your-free-registration
Date and time
Location
Webb Library
West Court
Jesus College, Jesus Lane
Cambridge
CB5 8BQ
United Kingdom