Join us online for our annual Particle Physics Christmas Lecture
About this event
AWAKE - creating a path for high energy particle physics
The 2021 Particle Physics Christmas Lecture will take place online on Thursday 9th of December, 17:00hs GMT.
Our guest speaker is Professor Dr. Allen Caldwell*, from the Max Planck Institute for Physics, and it will be hosted by the Head of Particle Physics, Professor Daniela Bortoletto.
Abstract: Plasma wakefield acceleration has been proposed as an approach capable of pushing the energy frontier of particle physics. An experiment using a proton beam at CERN, the AWAKE experiment, was approved in August 2013, and first data taking took take place in 2016. AWAKE has since reached its first important milestones. The next running periods will demonstrate the acceleration of bunches of electrons and will demonstrate scalability of the process, opening the door to future particle physics experiments. The underlying physics will be explained and first applications discussed.
*Allen Caldwell's research focuses on the investigation of the fundamental building blocks of matter, their properties and their interactions.
He is involved in several research projects:
The AWAKE experiment on wakefield plasma acceleration (CERN)
MADMAX: searching for axion dark matter (LNGS, Italy)
The Belle II experiment (KEK, Japan)
and he will share his vision of the particle physics research field during this event.
This event is open to all, and will be hosted via Zoom.
Registration in advance is a must, and will close on 9 December at 12 noon GMT.
The Zoom link to join, will be emailed after the closing time, and before the event.
Any questions, please email Val Crowder (alumni@physics.ox.ac.uk)
Image (shown partially at the top) credit: Jorge Vieira, Ricardo Fonseca, IST Lisbon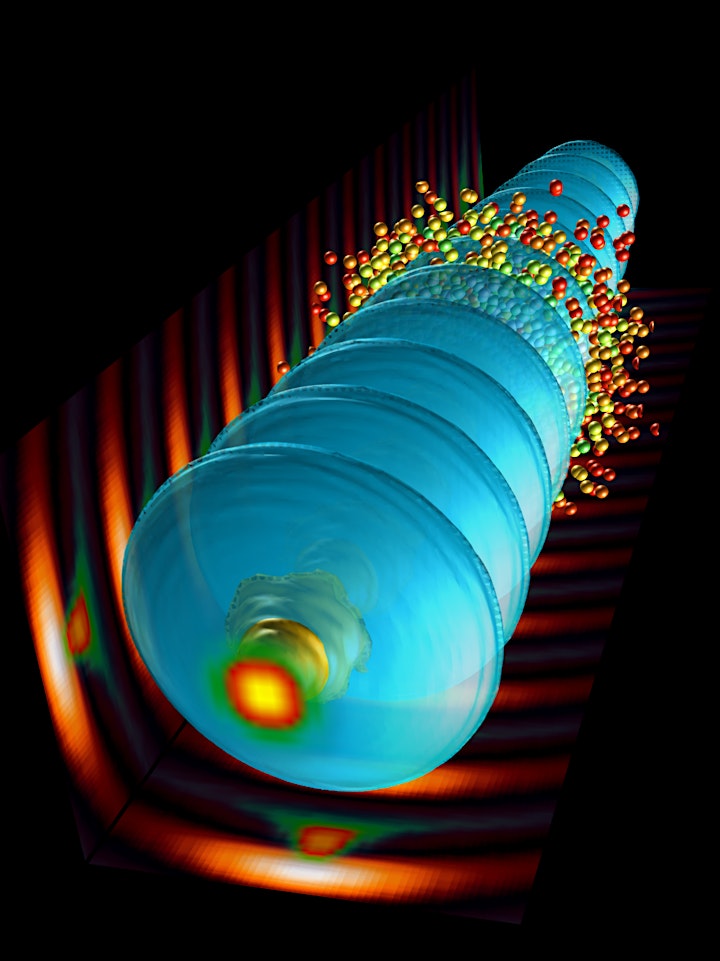 Organiser of The Particle Physics Christmas Lecture 2021