Location
Info point
89 Northmoor Road
Longsight
Manchester
M12 4PF
United Kingdom
Sales Have Ended
Registrations are closed
Booking for this time slot has now closed
An extraordinary walk, through familiar streets – an intimate audio walk along and around Northmoor Road, Longsight.
About this event
The people of is a free & un-ticketed audio walk, accessed via a mobile-optimised website.
You only need to book a ticket here, if you would like to borrow a smartphone and/or headphones in order to access the audio walk.
The people of
The people of is an audio walk that creates a fleeting portrait of an ordinary high street. Just two miles from Manchester city centre, Northmoor Road in Longsight is a meeting and crossing point for all sorts of different people.
This intimate audio walk guides you along a well-trodden route, past the greengrocer, the barber's, the butcher and the takeaways. As life carries on around you, tune into the voices of the people who keep this place alive.
The greengrocer who used to keep pigeons in Pakistan, the cleaner who grows sunflowers on her balcony, the auto electrician who is learning on the job, the tour guide who plays his saxophone in the local park, the person living on the 15th floor with a bird's eye view of it all…
The people of is created from a fascination with how we live together – how our daily lives depend on, and collide with, those we don't really know. It looks at the journeys that we take, how we spend our time, and what it really means to live together.
The latest work by legendary Manchester ensemble Quarantine, The people of is made through interviews and encounters with the people who live and work in the area. It maps the voices, stories and daily routines of Northmoor Road against a sonic landscape of found and composed sound, transforming the street into a live exhibition of people.
Visit thepeopleof.app to begin your journey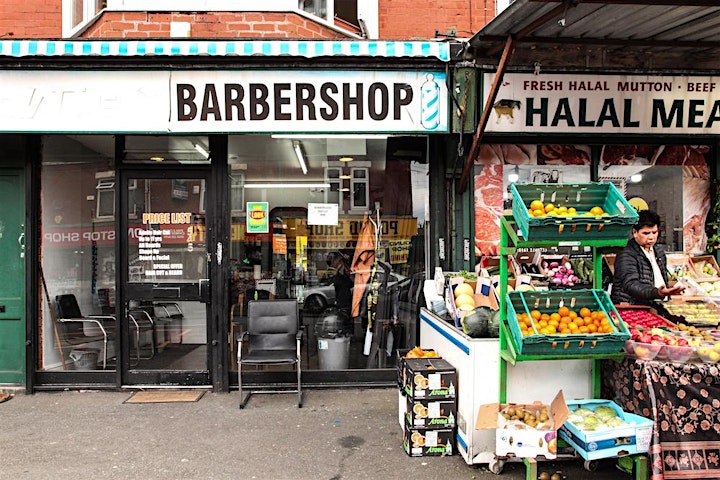 Available from 5th February 2022
Free to experience
Audio in English & Urdu (with written translations)
Starting point: The corner of Northmoor Road and Elgar Street, Manchester, M12 5RT
Information point: 89 Northmoor Road, Manchester, M12 4PF
Running time: approx 60 minutes
Walk length: 1 mile
The people of is a self-guided walk and can be experienced at any time. We recommend setting off between the hours of 11.30am and 4.30pm while it's light and the shops are open (Fridays are not recommended as some businesses are closed).
Urdu-language support available Thursdays & Saturdays.
If you book a ticket to borrow a smartphone and/or headphones, please collect your device from the information point at 89 Northmoor Road at the beginning of your time slot.
The people of is created by artists Kate Daley and Sarah Hunter, sound artist Jaydev Mistry and project animateur Chi Emecheta.
Photographs by Kate Daley.