About this Event
The British Academy of Forensic Sciences invites students from undergraduate, postgraduate and PhD programmes to a special event aimed at building an inclusive student community with interest in forensic science and other related fields including biosciences, pharmacy, toxicology, law, war studies, psychiatry and psychology, criminology, etc. There will be a talk on "The people versus Jack the Ripper" with the opportunity to cast your vote, join in the Q & A session and finish with a reception to follow giving the opportunity to network.
Michael Mulford is from Dundee and is no stranger to the world of crime, having served a four-year sentence which saw him in every jail in Scotland … as head of communications at the Scottish Prison Service! He has held senior appointments in journalism, television and government public relations, including 11 years as principal spokesman for UK military Search and Rescue operations. He was the first Crime Correspondent in the history of the Dundee Courier where, in 1967, a Dundee CID Officer DC Bob Storrier was the first person to mention Jack the Ripper to him. Michael was also a Parliamentary Correspondent of the Scotsman, then an on-screen reporter and later Producer-Director at STV.
AGENDA
Registration: 5:30pm
Guest lecture: 6:00pm
Reception: 7:00pm
Registrations are free so make sure to register ASAP before seats run out.
A drinks reception is included with the booking so please contact us if you need to cancel your registration for catering planning.
Please remember to also bring your student ID card along to register on the day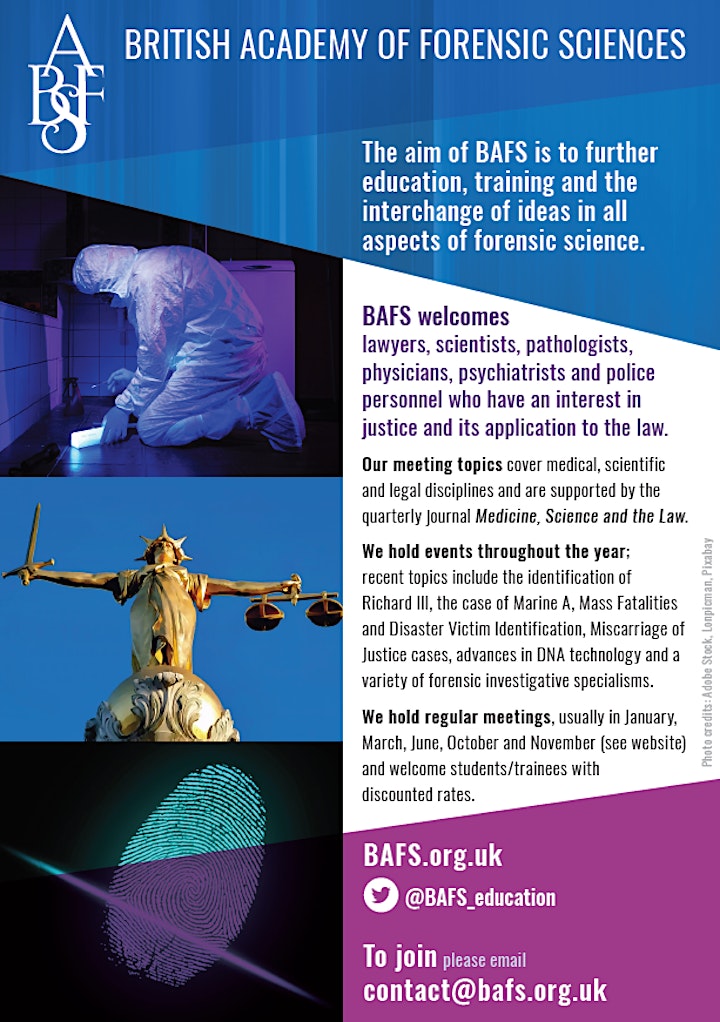 The British Academy of Forensic Sciences welcomes membership applications from students that are interested. Please click on the link below for further information on our application process:
Terms and Conditions
Cancellations and amends
Please ensure you advise your cancellation as soon as possible so that we can adjust our catering planning.
Bookings
Delegates from outside of the EEA must ensure their immigration status adheres to the current UK government policy. The BAFS does not issue invitation letters or other evidence required for visa applications and the confirmation letter which will be sent to delegates upon completion of booking and receipt of payment confers no legal status as regards entry to the UK. Should your visa application be denied our usual cancellation terms apply.
The BAFS accepts no legal responsibility for facts stated or opinions expressed during its events. It is the responsibility of individuals to satisfy themselves as to which facts and opinions should be relied on in any way whatsoever.