Location
Lecture Theatre 1, Royal College of Art
Jay Mews
London
SW7 2EU
United Kingdom
Description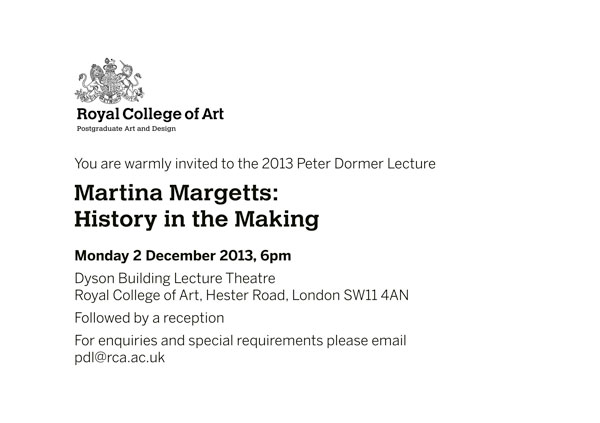 Dear Colleague,
I very much hope you will be able to attend the Peter Dormer Lecture 2013. This will be the 17th year of the lecture, which has become a major event in the applied arts and is held in memory of Peter Dormer, the pioneering writer on design, architecture and the crafts, who died in 1996 aged 47.
This year's lecture will be given by Martina Margetts, a leading light in the crafts world for over 30 years. As Editor of Crafts she fostered critical debate in the field of craft, going beyond studio craft to include new media, folk art, architecture, design and contemporary art. As teacher, writer, curator and adviser she has acted as a key interpreter of creative talent, helping to shape the meaning of making in our time. She is happiest behind the scenes, but in memory of Peter and in honour of practitioners of craft globally who have inspired her life, she will deliver the 2013 Peter Dormer Lecture, entitled History in the Making, to reflect on how history, objects and selves are made - and unmade - in societies in flux.
A lecture fund exists, thanks to the generosity of many. However, we still need to raise further funds so that we can firmly establish the lecture in perpetuity. This is the only annual lecture devoted to the crafts, broadly interpreted, so please give generously.
If you would like to contribute please make your cheque payable to Royal College of Art (Peter Dormer Fund) and send it to Angela Ransom, Finance Office, Royal College of Art, Kensington Gore, London SW7 2EU.
With many thanks for your support.
Tanya Harrod
Chair, Peter Dormer Lecture Committee
Co-Editor, the Journal of Modern Craft
For more information about the Peter Dormer Lectures, please visit www.rca.ac.uk/peterdormer