Description
The World Famous Photoshop Freak comes to London
On Sunday March 24th 2013 Calvin Hollywood and Glyn Dewis bring the Photoshop Freak Show to London Town for ONE DAY ONLY and if you love Photoshop and we mean REALLY love Photoshop this is a day you're not going to want to miss this!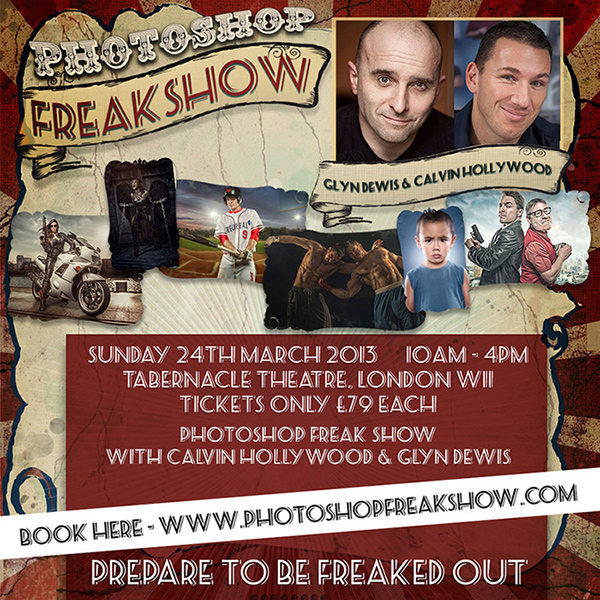 But...
BE WARNED!!!
This is a seminar for people who like to learn the FREAKY stuff!
The Freak Show is for people who like to see techniques that make them go "WOW"; techniques that can take their Photoshop skills to a whole new level...the FREAKY level.
A packed One Day Seminar of Photoshop, Calvin & Glyn will show techniques for:
Beauty & Portrait Retouching
Compositing
Special Effects
Adjustments
Workflow
Turbo Speed and much more...
Tickets for this one off SPECIAL event cost just £79 per person but spaces are limited so be sure to BOOK NOW to secure your seat.
Venue:
Tabernacle Theatre
34 – 35 Powis Square
London
W11 2AY
Travel:
The Tabernacle Theatre is situated in London's Notting Hill; easily accessible by tube/train. The best / nearest London Underground Station will be: Westbourne Park.
Please note: The only parking available is on the street by paying at a meter however spaces are very limited.
Accommodation / Hotel:
Should you wish to make a weekend of it and get to see some more of London before and after the freak show, you might want to consider staying in a hotel. Be sure to email me at glyn@glyndewis.com and we can help out with that.
Here's some hotel suggestions for you:
Holiday Inn [Link]
Travelodge [Link]
More Options [Link]
Travel around London [Link]
Note:
*This is a seminar for all levels, Beginner to Advanced…there's Freaky Goodness for everyone!
*The Freak Show is not a 'hands on' class for attendees but rather a seminar class where you can take notes, ask questions etc…
If you have any questions please feel free to email me at glyn@glyndewis.com
For more information and to BOOK tickets click [here]
www.photoshopfreakshow.com
www.glyndewis.com
www.calvinhollywood.de