As we approach the end of Ramadan, you still have time to make the most of this month and to develop habits for the rest of the year
About this event
The Pinnacle of Success - Honoured by Allah
Join us for our final epic Ramadan webinar with the captivating Ustadh Abu Muhammad, as we learn about what the Prophet Muhammad ﷺ said about our Ultimate Goal.
In Ramadan, we sacrifice for the sake of Allah ﷻ and maximise our Ibaadah to build our relationship with Allah ﷻ. However, how often do we reflect on what we are hoping to achieve in life?
Join us as we go through a journey of understanding the ultimate goal. We believe that after you have understood the aim of this journey, there is nothing else you'd rather want to achieve!
A brief outline of topics covered:
• There is nothing in the universe you could want more!
• Hadith of the Prophet ﷺ
• Project Planning - How To Achieve The Ultimate Goal
• Action! (Ramadan and Beyond)
The Teacher
This webinar will be delivered by this webinar will be delivered by Ustadh Abu Muhammad has a passion for teaching students key concepts that can be easily applied to their spiritual and practical development. His energetic and passionate style of teaching combined with his ability to break-down and effectively explain areas of interest, make him the perfect teacher for this subject.
We strongly recommend that you are prepared to take notes during the webinar.
You will automatically be registered for Saturday's webinar: Ramadan And Beyond.
** ACCESS TO THE LIVE WEBINAR IS FIRST COME - FIRST SERVED! EVEN IF YOU HAVE REGISTERED ON EVENTBRITE, IF YOU ARE LATE TO THE WEBINAR YOU MAY NOT GET ACCESS. THIS IS THE SAME POLICY FOR ANYONE WHO HAS BOOKED A FREE TICKET OR A SPONSORED TICKET. **
REGISTRATION & WEBINAR ACCESS:
1. Please ensure you complete all the fields accurately, a unique registration link will be sent to you via e-mail once you have completed this. Look out for an e-mail from ISLAMIC HELP - WEBINAR LINK.
2. We will try to send you an SMS reminder about the webinar.
3. You can only use your unique webinar link, if you share it with someone else and they access the webinar using the same link, you will be logged out!
4. Spaces are limited, if you want to attend this webinar please make sure you sign up now, don't leave it until the last minute. Registration is first come - first served, this means if you log in late to the webinar you risk missing out.
5. You can access the webinar using an up-to-date mobile device like an iPhone or Android phone but we recommend you use a laptop or computer for the best viewing experience, however this isn't essential, 40% of our viewers use a mobile device.
FUNDRAISING: During the webinar we will have a very short fundraising appeal. Islamic Help is a humanitarian aid charity and the fundraising will go towards supporting our work around the world.
PLEASE SHARE THIS POSTER WITH YOUR CONTACTS!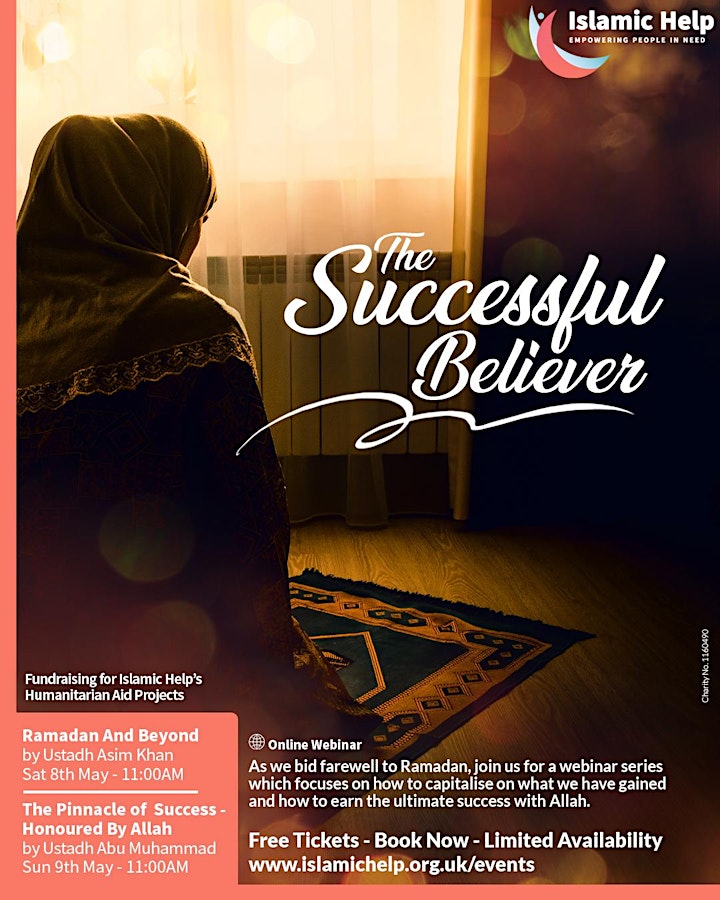 Organiser of The Pinnacle of Success, Honoured by Allah - The Successful Believer Series