Location
The Africa Centre
66 Great Suffolk Street
London
SE1 0BL
United Kingdom
Join us for a night of discussion, drinks, food, networking & the premiere of our documentary on the British Natural Hair Scene
About this event
Black Ballad has teamed up with British haircare brand, Afrocenchix to create: The Pioneers, Present & Future Of The British Natural Haircare Movement - a mini-documentary not only discussing black hair, but celebrating the black women who've led the British Natural Haircare movement for the past decade or more.
Join us for a night of discussion, drinks, food, networking and the premiere of our documentary about the British Natural Haircare movement produced and directed by Black Ballad editor Jendella Benson.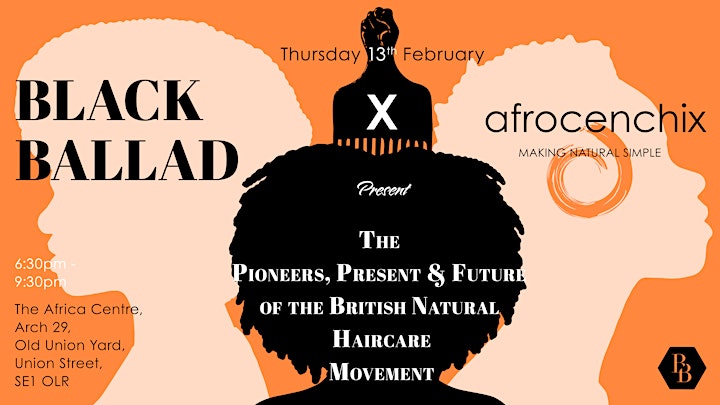 The documentary features contributions from some of the women who we consider the pioneers, present & future of the Natural Hair space in Britain - ranging from award-winning empowerment blogger Jay-Ann Lopez, Care For Your Hair founder Pelumi Rae and Crystal Afro, to teenage hair gurus AfroCat365 and KhiasKurls.
Our discussion on the night will be chaired by Black Ballad founder Tobi Oredein and our panel of speakers are: YouTuber and entrepreneur Laila Jean Washington also known as Neffy Fro Fro, artist and creator of Bald Black Girls Ruth Sutoyé and co-founding director of Afrocenchix Rachael Corson.
And of course, Afrocenchix will be providing goodie bags for all attendees
This Black Ballad event is open to everyone, with Black Ballad members getting access to discounted tickets via email
General admission: £10.00
Black Ballad members: £12.50
Black Ballad premium members: £16.00
We are also bundling a limited number of event tickets with three months' Black Ballad membership.
General Admission + 3 months BB membership (worth £15) : £23.50
General Admission + 3 months BB premium membership (worth £21): £26.50
If you are buying a ticket + membership bundle, you'll receive an email at 9pm on the day after you purchase with your activation code.
Why else should you become a Black Ballad member? Glad you asked! Find out more about Black Ballad membership here.