Get ready for the most exciting startup event of the year...
About this Event
The Pitch 2020 Final welcomes 10 of the UK's most exciting startups to compete for a money-can't-buy package of mentoring and support.
Book your free ticket to:
Hear our finalists' game-changing ideas
Watch their pitches broken down by our expert panel
Have your say by asking questions and voting for the people's choice
The finalists were selected from 500 entries and made it through eight semi-final heats.
You can check out the top 10 and watch their pitch videos on The Pitch 2020 leaderboard.
The Pitch 2020 judges include Mission Ventures founder and investor John Stapleton, Moneypenny founder and investor Ed Reeves, Lux Afrique founder and investor Alexander Amosu, Origin founder and investor Heather Frankham and Crowdcube co-founder Luke Lang.
If you've started your own business – or are interested in doing so – nab yourself a ticket to meet other entrepreneurs, broaden your network and get inspired.
The Finalists
Thanks to our sponsors for supporting The Pitch 2020 programme: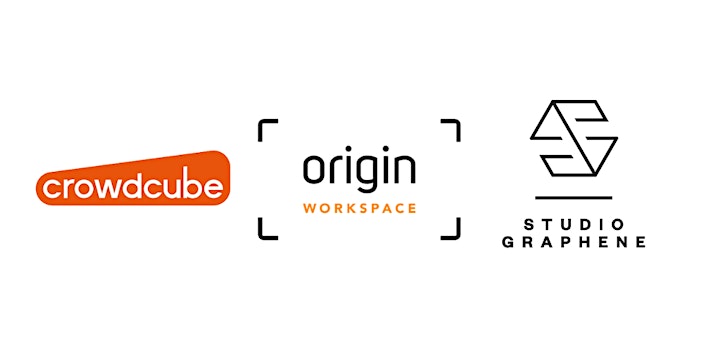 Agenda
Each business will have 2 minutes to pitch their business
Our judges provide feedback and asks each founder questions
Join in the discussion in our chat window
Take part in our audience vote and tell us your favourite pitch
Watch live as we announce the winner of The Pitch 2020!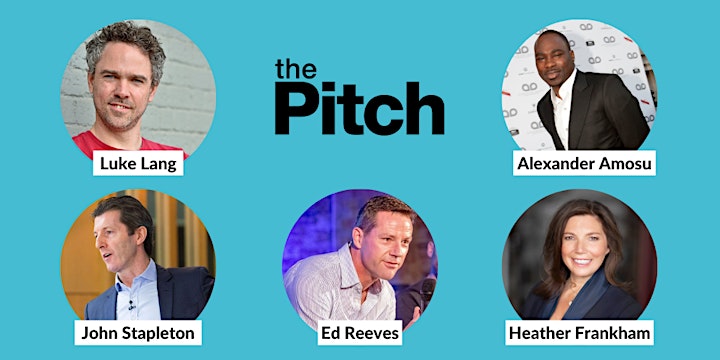 Judges
Luke Lang, Crowdcube co-founder
In 2011, Luke Lang co-founded Crowdcube, a crowdfunding platform that gives everyone the power to invest. Their aim was to not only enable small businesses to gain financial investment, but also a community of supporters. Over the past nine years, they have made equity investment accessible, helping over 800 companies receive funding. To date, over 750,000 Crowdcube investors have invested £690 million on the platform. Luke has been named one of Britain's 500 most influential people by Debrett's and was selected as one of The Sunday Times' Maserati 100 game-changing entrepreneurs.
Alexander Amosu, Lux Afrique Boutique founder and investor
Starting his first job at 12 and his first business at 19, Alexander Amosu has become a successful business owner and investor. His entrepreneurial flair and background in technology enabled him to create Rnbringtone. As the first RnB ringtones company in Europe, the company reached a turnover of £6.7m. He has since founded Lux Afrique Boutique, Africa's first online luxury shopping boutique. Within this role, he has sold the world's most expensive suit and has designed luxury jewellery for several A-list celebrities.
Amosu has been ranked 98th in the Telegraph's UK's most powerful British Business people awards and has been featured in the Sunday Times' Top 40 under 40 in the UK. His success at such a young age has given him a lot of media attention. He has taken part in documentaries for CNN and BBC and has featured as a dragon on Dragons' Den Nigeria.
John Stapleton, entrepreneur and investor
With over 30 years of experience in fast-moving consumer goods (FMCG) businesses, John Stapleton has become a successful entrepreneur, CEO, and board director. John kick-started his career by co-founding The New Covent Garden Soup. He has since set up two other health-related businesses, including healthy snack company Little Dish which he sold after growing to £15 million annual revenue.John aims to help other small business owners, providing business growth advice, guidance and mentorship to help them succeed. He is a resident business advisor to Bord Bia's entrepreneurial start-up programme in Ireland and is investor director of Mission Ventures, a progressive business accelerator designed to build challenger brands.
Ed Reeves, Moneypenny co-founder
Ed Reeves co-founded Moneypenny, the UK's leading telephone answering and reception service. The service was created to help companies with their customer service efforts and has achieved a reputation for consistently high-quality service levels. They support 225k clients, handling 15m calls and chats annually on their behalf. Through Ed's leadership, Moneypenny has won the Queen's Award for Enterprise and has been recognised by The Sunday Times in its Best 100 Companies to Work For list.
Heather Frankham, Origin Workspace founder and investor
Heather Frankham founded training provider Lifetime Training. As one of the UK's largest apprenticeship and skills training businesses, they deliver courses for the Fitness, Leisure, Hospitality and Care sectors.
After exiting Lifetime Training in 2016, Heather founded Bristol-based co-working space Origin Workspace. With few connections when starting her own company, Heather wanted to make networking and collaborations between businesses much easier. They have also introduced Origin Startup, which provides mentoring, coaching and business development support for their small business owners. Heather is now an active investor in several Bristol-based and education-focused businesses.