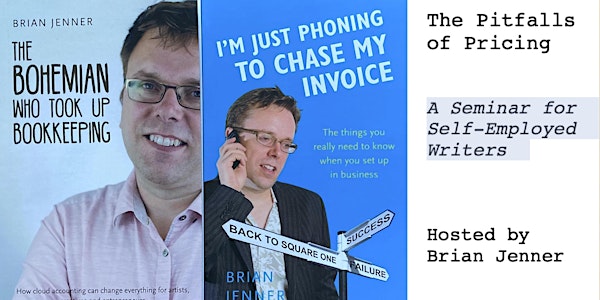 The Pitfalls of Pricing - A Seminar for Self-Employed Writers
Event Information
Refund policy
Contact the organiser to request a refund.
Eventbrite's fee is nonrefundable.
Brian Jenner leads a seminar about money for writers.
About this event
This seminar is a chance for professional writers to talk honestly about money.
Self-employed writers have to be three things, they have to be good salespeople,( to attract new clients), smart negotiators ( to agree contracts with clients ) and talented writers ( to deliver on the expectations of clients. )
The purpose of this seminar is to bring together people who are earning a living as writers, to share tactics and strategy on how to excel in all three areas, to make sure we're all getting what we deserve.
It's not about finding definitive answers. The answers are different depending on your skills, your expectations and your financial needs.
The seminar will be in three parts. For the first 20 minutes, we'll do introductions and share where we are . Then Brian Jenner will deliver a 20 minute presentation on 'The Pitfalls of Pricing.' The final 20 minutes will be a chance to discuss the ideas raised in the presentation.
Brian Jenner has been self-employed for over 20 years. He is the author of two books on money, I'm Just Phoning to Chase My Invoice and The Bohemian who took up Bookkeeping. He was the founder of the creative networking group, BoMoCreatives, and he now runs the UK Speechwriters' Guild and the European Speechwriter Network.
This seminar will not be recorded. All discussion will be confidential.
Participants can request a PDF handout at the end of the session with a list of books for further reading.
Date and time
Location
Refund policy
Contact the organiser to request a refund.
Eventbrite's fee is nonrefundable.
Organiser of The Pitfalls of Pricing - A Seminar for Self-Employed Writers
The European Speechwriter Network is a new career-enhancing resource for a multilingual and mobile profession. We provide a place to sharpen your skills, promote your services and set professional standards.
The UK Speechwriters' Guild is a pioneering group of people, committed to sharing knowledge about effective communication.