Description
Evening Concert for the launch of Later The Same Day's CD The Plight of the Passionate, with supporting guests.
Reserve your free tickets here on Eventbrite! There will be opportunties to optionally donate (cash only) on the night to help the volunteer organisers cover hall and equipment costs. Thank you. Please see note further down this page regarding cash machines, however.
EVENT
Sat 24 Feb 2018 - Doors open 7pm. Music will start at 7.30pm Event ends circa 10pm.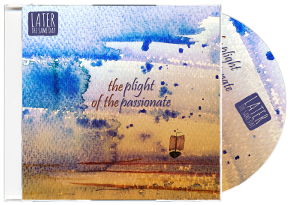 Want to listen to clips from the album? Click here
As the concert tickets are free, please consider buying a copy of our CD in advance online to help us cover the costs of putting on the concert. Click for Details and Ordering
TICKET INFO
Ticket age limit is 14 yrs+ *
Maximum number of tickets per order is 4. At the point we started this page there were only 100 tickets available - because of venue size. By the time you read this that number will already have gone down - so don't delay in reserving your free tickets. Don't run the risk of expect there to be any left on the door.
We have a strict venue imposed limit of 100 tickets available for this exclusive event. This event is for those aged 14 or above. Only children who are close relatives to the musicians playing will be permitted.
This event is a community event, open to everyone in the local vicinty, as well as visitors from further afield.
* Please bring ID for any 14-18 year olds attending, thank you.
The venue is small and the evening is really aimed at adults and isn't overly suitable for children under 14.
SEATING
This is a mixed unreserved-seating and standing event. Seats available on a first-come, first-served basis on the night. At most there will be 90 seats, if floor space permits, once the stage is set up. If we are at capacity, some attendees will have to stand.
NEW ALBUM - THE PLIGHT OF THE PASSIONATE
This concert is a live performance of our new CD, The Plight of the Passionate, a 10-track 60 minute studio recorded album, that has taken around 8 years to craft and complete. See the Later The Same Day online store link at the bottom of this text. Want to buy the CD? Visit the LTSD Online Shop.
VENUE, CAFE, MERCHANDISE & PARKING INFORMATION
There will be a non-alcoholic bar, and snacks cafe - which takes CASH ONLY.
The venue is not licensed to sell alcohol, but visitors can bring their own alcohol to the event. Please however only consume food purchased on the premises as this helps support the running costs of this community venue, thank you.
The venue is wheelchair accessible. Everything for this concert is on the flat ground floor.
There are 2 disabled parking spaces in the nearby car park - no steps between car park and venue, but there is a slight hill.
There is parking for only 82 cars in the 1-minute-walk-from-venue car park, but only 43 are guaranteed for the TCCC venue, as the car park is shared with another local amenity, and if that other venue is in use that night then TCCC loses up to 39 spaces - please car share where you can.
If the car park is full please do not park on Church Road - the street with the venue and village church on. Two alternative road locations to park are the middle rural part of Wild Oak Lane and the straight part of Honiton Road near the grassy areas. Please try the official car park before parking anywhere else. Please respect local residents access when choosing where to park, and make sure you are parking where it is safe for other road uses to pass safely at night in dimly lit areas. LEave enough time to allow parking a little further away from the venue and walking back. Thank you.
THIS EVENT HAS NO CREDIT/DEBIT CARD FACILITIES FOR CAFE OR MERCHANDISE BUYING.
There is no nearby cash machine in the Trull part of Taunton. The nearest cash points, where you can park right next to the cash machine without charge, are
Tesco Express, Galmington Centre, TA1 4TY. 5 minutes drive from venue on the same side of town as venue.
Not walkable from venue.
Coop, Wellington Road, TA1 5LU. Easy to find if you are coming into Taunton from M5, J26, before driving to venue.
LATER THE SAME DAY ONLINE
To order our CD: http://latersame.band/store
Like our facebook page: https://facebook.com/latersame
Join our email mailing list: http://latersame.band/list
Visit our website: http://latersame.band