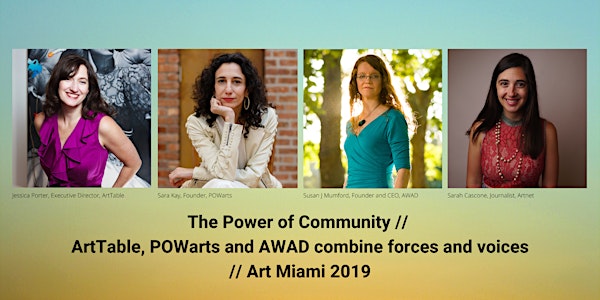 The Power of Community: ArtTable, POWarts and AWAD combine forces and voice...
Location
CONTEXT Art Miami
Miami, FL 33132
Refund policy
Refunds up to 7 days before event
Description
ArtTable, the Association of Women Art Dealers (AWAD) and the Professional Organization for Women in the Arts (POWarts) invite you the first event of its kind...
These three professional networks for women in the art world are joining forces for a thought-provoking conversation to foster new ideas and generate opportunities with individuals across all three networks, not to mention collectors, curators, academics and special guests who champion gender parity.

Artnet journalist Sarah Cascone will facilitate a discussion with the leaders of the three organizations:
Jessica Porter (Executive Director, ArtTable)
Sara Kay (Founder, POWarts)
Susan J Mumford (Founder and CEO, Association of Women Art Dealers)

The panel will be accompanied by a Q&A followed by an open networking session.

Refreshments will be aplenty, to awaken and bolster conversation alike! Treats include coffee, tea, mimosas, quiche, bagels and croissants.
With gratitude...
The event takes place on the occasion of Art Miami's 30th edition, prompting us to look at the position of women in the industry when the fair began in 1989 (think: Guerrilla Girls era), comparing that to the reality today (post #metoo), and looking ahead to 2049.
Individuals of any gender are welcome to attend.

This exclusive, invite-only occasion has been made possible with much thanks to Yvel.
https://www.yvel.com | Instagram @yvel_jewelry

Timetable
Arrivals // 9.30am
Panel // 10.00am
Open networking // 10.50am
Departures // 11.30am

Location
Context Art Miami VIP lounge

Ticket sales directly support the programs of the three associated non-profit organisations, with proceeds being equally divided between them. Your support is appreciated and will help us all work towards an equal art world.
Immediately following the event, Art Miami Fair Director Nick Korniloff and the Art Miami Team welcome you to enjoy the Context Art Miami and Art Miami fairs.
---
About ArtTable
ArtTable is the foremost professional organization dedicated to advancing the leadership of women in the visual arts.Through our world-wide membership network and community initiatives, we expand opportunities for women from diverse backgrounds and at all stages of their careers, fostering a stronger future for all women in the arts.
https://arttable.org | Instagram @arttableinc
---
About the Association of Women Art Dealers (AWAD)
The Association of Women Art Dealers (AWAD) facilitates business and collaborations between and for our members at all stages of career as business owners. Our aim is to positively impact the business of all members. Our chapters are located in London, New York and online, and our Friends program welcomes art dealers, gallery managers and independent curators of any gender.
www.womenartdealers.org | Instagram @womenartdealers
---
About the Professional Organization of Women in the Arts (POWarts)
POWarts, the Professional Organization for Women in the Arts, was founded in 2008 to champion the professional lives of women in the art world. By offering an active calendar of events, panel discussions, and mentoring opportunities, POWarts helps women learn, connect, and build their careers. Here at POWarts, we believe that generosity and leadership can, and should, go hand in hand. Our programming stems from the knowledge that art and business are not separate; rather, understanding business is vital to creating spaces for art, and women, to thrive. POWarts is a nonprofit organization run by a steering committee, with the assistance of additional volunteers. Membership is open to women and allies of all genders who are committed to the advancement of professional women across the arts.
http://www.powarts.org | Instagram @powarts


---
About Art Miami
This annual event now celebrating its 30th edition is recognized as one of the preeminent international modern and contemporary art fairs. Art Miami will showcase an array of iconic and important art works, dynamic projects and special installations from more than 170 international galleries from nearly 22 countries representing 69 cities.

https://www.artmiami.com | Instagram @artmiamifairs
---
About artnet
artnet is the leading online resource for the international art market, and the destination to buy, sell, and research art online. Founded in 1989 with the goal of bringing transparency to the art world, artnet's comprehensive suite of products offers a variety of art market resources to our audience of collectors, dealers, and art enthusiasts.

http://www.artnet.com | Instagram @artnet