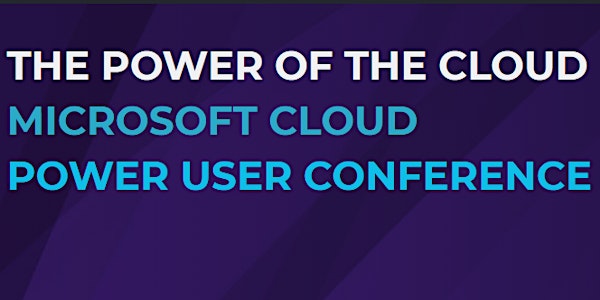 The Power of the Cloud - Microsoft 365 Power User Conference
Join a full day Power User focused session to learn the basics of Microsoft 365 including the Power Platform, Microsoft Teams & SharePoint
About this event
Are you a Microsoft Cloud user? Do you use advanced features of Microsoft 365 to meet your business & technical requirements which are not typically known by end users?
If so, then you are considered a "Power User".  Join Microsoft MVPs & Industry Experts for a day-long, peer-to-peer education workshop, where we will go through deep-dive training in advanced concepts of Microsoft 365 including the Power Platform (Power Apps, Power BI, Power Automate, Power Virtual Agents), SharePoint Online and Microsoft Teams.
These workshops won't involve any extension of the platform via "development" but rather by "configuration", either in the tool itself or the administration of the tool. 
They are an opportunity for attendees to build their Microsoft 365 professional relationships and fuel their product knowledge while supporting their organization's adoption of the Microsoft 365 platform. 
Attend this event and in turn accelerate your organization's end user journey when using Microsoft 365 with the end goal of getting your business units to adopt, consume, and realize the full potential of Microsoft 365.
Please note, in advance of the session, an event coordinator will reach out to all attendees to ensure they are ready with the pre-requisites of attending the conference.
Visit our web site for more information: http://powerofthecloud.net.
Please note: We DO NOT provide invitation letters for this event and as this is a company focused event, if you did not use your CORPORATE EMAIL or enter your Company Name for registration, your ticket will be cancelled so please ensure you include it when registering.