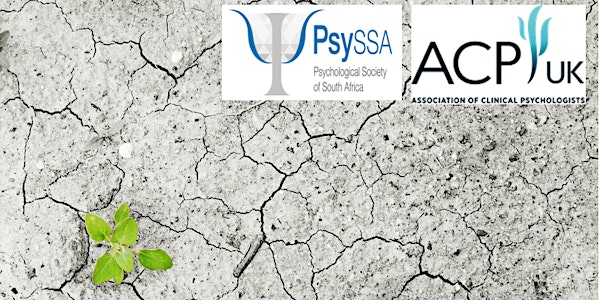 The Power Threat Meaning Framework & human responses to climate breakdown
A seminar on how the PTMF could support non-pathologising understandings of a range of responses to the climate & ecological emergencies
About this event
This seminar will focus on how the Power Threat Meaning Framework (a conceptual alternative to psychiatric diagnosis which has attracted national and international attention) can be drawn on to make sense of a range of responses to the climate and ecological emergencies; from overwhelming anxiety, through engagement in activism, through to denial and responses following acute climate catastrophes. Based on content from our recent paper (link), we will introduce the PTMF and speak about how the Framework can be used to centre power to develop non-pathologising understandings of our own and others' reactions. Breakout rooms will be used to give participants space to reflect on how the ideas connect to their own and others' experiences, and we hope to think with you about how the ideas might support mitigation and adaptation at individual, community, and professional levels.
This event is free and is being jointly hosted by the Psychological Society of South Africa's Climate, Environment and Psychology (CEP) Group and the Association of Clinical Psychologists' Climate Action Network (UK). It is open to the public, although will be aimed towards therapists and those working in mental health. Spaces are limited, so please cancel with as much notice as possible if you book on but can no longer attend. We hope to record the event and make it available on our network pages, but we cannot guarantee we will be able to do so.
Speaker bios:
Garret Barnwell is a clinical psychologist and community psychology practitioner. He is also a URC Postdoctoral Research Fellow at the University of Johannesburg in South Africa. His practice and current research focus on theorising and documenting the psychological dimensions of epistemic violence in relation to land, climate and environmental (in)justices. Barnwell was also an expert on the landmark youth-led #cancelcoal case climate case launched against the South African government's plans for new coal-fired power.
Lucy Johnstone was lead author, along with Professor Mary Boyle, of the PTMF. Lucy is a consultant clinical psychologist, author of 'Users and abusers of psychiatry' (3rd edition Routledge 2021) and 'A straight-talking guide to psychiatric diagnosis' (PCCS Books, 2nd edition 2022); co-editor of 'Formulation in psychology and psychotherapy: making sense of people's problems' (Routledge, 2nd edition 2013); and co-author of 'A straight talking introduction to the Power Threat Meaning Framework', 2020, PCCS Books) along with a number of other chapters and articles taking a critical perspective on mental health theory and practice. She is the former Programme Director of the Bristol Clinical Psychology Doctorate in the UK and has worked in Adult Mental Health settings for many years, most recently in a service in South Wales.
Annie Mitchell is a psychologist, educator and activist raised in a mining community in the north east of England, with a longstanding concern to make good connections between community and clinical psychology, shared health, and our existential troubles. Power, threat, meaning - and love - thread through all of this.
Gareth Morgan is a clinical psychologist and lecturer on the Leicester Clinical Psychology training programme having previously worked clinically in learning dis/ability and adult mental health services. He is co-chair for ACP's Climate Action Network and member of the Group of Trainers in Clinical Psychology's Planetary Health sub-committee. Gareth also sits on the British Psychological Society's PTMF working group and provides training on the Framework and responses to climate breakdown.