Description
Do you know where you want your life and your business to be by the end of 2019
?
Join us at this month's The Power Within "IGNITE" Goals Setting Academy for a workshop on setting personal, business and career goals, and achieving a more focused, defined and systemized program for turning your DREAMS into REALITY.
In our busy lives, we often get pulled from pillar to post, drown in detail, more is expected from us and we demand more of ourselves. As a result, we tend to forget to get off the hamster wheel and take a break to think about what it is we really want, and why.
Spending time to reflect on what is truly important to us and what we really want in life gives us focus and direction on how to spend our time and energy. Having a plan of action and taking regular steps toward achieving what we want means we are far more likely to get there than if we were just wishing for it.
After attending our "IGNITE" Goals Setting Academy, you'll benefit from renewed energy, vision and focus. You'll have a ready-to-implement plan for the next week, month, and year with a detailed 90-day plan so you can get your personal & professional moving in the right direction.
The Importance of Goal Setting, Planning & Defining!
World-class athletes and all successful business people achieve what they do by setting and planning goals. These stages provide you with long-term vision but short-term motivation – the perfect way to stay energised, organised and focused.
In our experience most, people only have a very obscure idea of where they want to be and how to get there. By setting goals for the year ahead, you will be able to see where you can maximize your time & effort to achieve the results you want when you want them.
A recent Harvard Business School survey found that without goals setting, defining & planning, just 3% of people achieved their New Year goals – that's an astonishing 97% that end in failure within the first 4 to 6 weeks of setting them.
Why:
Most people just don't know how to set, plan or define their own goals,
They overestimate what they can do in a short time span and underestimate what they can achieve in a year.
They have no accountability to keep moving forward when things don't go to plan.
They give in too easily or put it off for that perfect day that never comes.
Those who set goals, plan them and put them into action:
• Focus on what they need to do, not want they want to do!
• Enjoy more fruitful personal and family relationships
• Have lower stress levels
• Live longer and healthier lives
• Have planned purpose in life
• Advance more rapidly in their chosen careers or business
• Make more money, faster than ever before
"If it becomes apparent that a set of goals we've set can't be reached, don't adjust the goals, but rather, adjust the action steps you are taking."
So start your New Year by setting and planning real goals with real results!
The Power Within can help you set REAL goals for REAL life RESULTS and, in just 4 hours, will give you the
power to achieve them.
Our
"IGNITE" Goals Setting Academy
will help you to:
Develop a positive mental strategy and business focus through the year.

Set specific goals based on desired outcomes, timelines, and results.

Refine and develop these goals as your business or career progresses

Understand the planning process to identify your strengths, weaknesses & opportunities

Recognise and prioritise your High Payoff Activities (HPA)

Create daily, weekly and monthly action plans

Meet like-minded business owners and develop new business relationships

Become accountable for your actions with weekly & monthly support
If you are ready to spark success in your personal & professional life, book your place today on one of our 3 tier monthly subscription packages: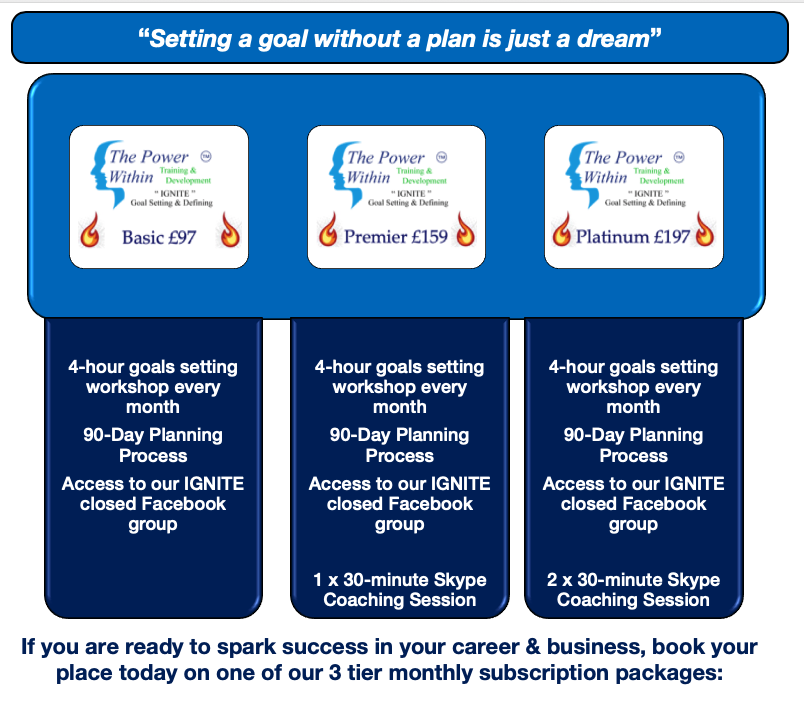 Monthly Goals Setting & Accountability Process
Each subsequent monthly workshop will include a PLAN follow up, accountability of actions items & updated goals setting session ensuring you stay focused & on the path to success. 8 monthly payments of your chosen subscription package.

Together, we'll make 2019 a breakthrough year for you
The Power Within 'IGNITE" - Goal Setting Academy.
from 9am-13:30 pm once per month, every month. To find out more or to register, visit www.thepowerwithin.org.uk, or
Email: contact@ThePowerWithin.org.uk,
Call 07479 010 355 or 01698 849 896.
I guarantee you will leave with a clear, strategic process & system to achieve your goals in 2019, if not I will refund you 100% no questions asked.