Description
What is The Practical Democracy Project?
An event series that brings together people working in publicly accountable organisations, civic society and the third sector to hear from speakers who are making practical change today, with plenty of opportunity for discussion and debate. The ultimate aim is to work with people across the spectrum to improve democracy and society.
Everyone is very welcome, if you are interested in learning about or improving democracy, join us. Our events are always free and informal. Take a look at the round-up from our previous events here.
This time, we're in Westminster, London!
Thursday 3rd October 2019. We've booked an event space at One Birdcage Walk with hot drinks, buffet lunch and stellar conversations included.


The event will begin at 12.15pm and we'll wrap up the main talks by 1.30pm. For those who can stay, we'll run a panel discussion to give you a chance to ask further questions of any of the speakers and to open up the conversation to the room. Come along and join us for as much as you can on over lunch.
We're busy putting an excellent line-up of speakers together and we will be announcing more details asap here.
Event schedule
12:00 Doors open
12:15 Introduction from Delib
12.30 Talk from Full Fact
The UK's independent fact checking charity. Full Fact push for corrections where necessary, and work with government departments and research institutions to improve the quality and communication of information at source. They also provide a factchecking toolkit to give people the tools they need to make up their own minds.
12.45 Talk with Kitty von Bertele from Luminate
A global philanthropic organisation with the goal of empowering people and institutions to work together to build just and fair societies. They do this by funding and supporting organisations and advocating for policies and actions that will help people participate in and shape the issues affecting their lives, and make those in power more transparent, responsive, and accountable.
Kitty focuses on policy, advocacy, and related investments in Europe. Prior to joining Luminate, Kitty was at the UK Department for International Development, where she developed and implemented their digital strategy. Before that she worked at the Open Government Partnership. Kitty has also served in various other roles in the UK government, including Senior Policy Adviser for transparency and open data in the Cabinet Office, where she managed the team responsible for open data policy across government.
13:00 Third speaker tbc

13.20 Short break for lunch
13.35 Panel discussion with all speakers
14.05 Conclude panel discussion, we have the space booked until 3pm for those of you who wanted to stay and chat
Put Thursday 3rd October in your diaries and come along for interesting talks & discussions, focusing on positive and practical ideas for improving democracy.
The PDP Event Series
This event is part of the Practical Democracy Project, a series of events organised by Delib dedicated to looking at how we can make everyday improvements to the democratic process – with a particular focus on policy-making at local and central government levels.
Through this series, we are mapping out how to create the best democratic experience for citizens in a practical way. We also aim to establish the optimal user-journey for government officials, policy-makers and elected officials, recognising that democratic processes are always a two-way street, and must work for both citizens and government to be effective.
We've had a wide range of fantastic speakers including:
* Citizen's Advice * Cabinet Office Behavioural Insights team * Albion * Edinburgh Napier University * Democratic Society * Carnegie Trust * Wittin * Good Things Foundation * The Politics Project * University of Liverpool * The Federation/ Tech for Good Live * Open Data Factory * UK Parliament * Marvin Rees (Mayor of Bristol) * Bristol City Council * Centre for Public Impact * Transform * European Movement Ireland * Northern Policy Forum * University of Leeds * Hamilton City Council (NZ) * Matt Jukes * Scottish Parliament * Scottish Government * Media Co-op *
A few words above from Emily Redmond from Good Things Foundation - after speaking at our Leeds event.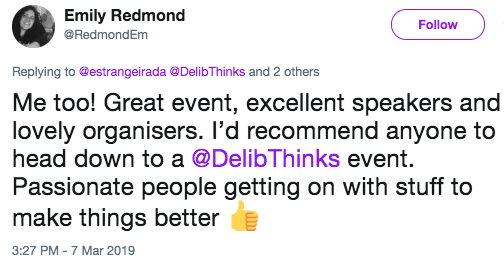 For more info or to suggest ideas for the day, drop us a line on Twitter: @delibthinks