The Presentation Genius Afternoon!

Thursday, 7 March 2019 from 14:00 to 17:00 (GMT)
Event Details
Too late - you've missed some awesome presentation skills training. Head to our site for updates how you can get some next time! :)
Would you like to be better at presenting? C'mon, you know you want to... Actually, the chances are you don't want to, but feel you need to. Here's the answer to your prayers ;)
Okay, you won't reach the stage of Presentation Genius in just one afternoon, but you'll get the tools to move you a lot closer to it.
We'll work hard, and we expect you to do the same, but we'll not be too po-faced or serious about it. We take our work seriously, just not ourselves!
... and we're so confident that we can help that if you don't think we have, we'll give you your money back. Simple. That means there's no risk in booking.
Is this for me?
The workshop is only three hours long, so we're packing a huge amount into that time. It's for you if:
You want / need to make presentations for your job, or hobby, but you're not "a professional speaker"

You run your own company / organisation and need to tell people how good it is!

You've just been promoted and now you need to talk about your job not just do it

 
What do we cover?
There's a lot to take in. We'll look at:
What presentations are good for and when you shouldn't use them

How to handle the nerves of presenting

Structuring your presentation to make it effective

Designing slides and other visual aids to make them helpful

Understanding the psychology of audiences

More tools for nerves!

Credibility and authority techniques

Dealing with questions
What's the style?
The trainer, Dr Simon Raybould, was a research scientist for 24 years, so everything you get is based on hard-core, scientific research of what works for presenting. But it's not a lecture, don't worry!
Simon has also been an actor, a lighting designer, an author and a fire-eater. (We'll leave it to you to figure out which one pays the bills best! ;) )
What that means is that you'll get your science-based stuff delivered by someone with a bit of flair.
It's fun, fast and intensive - but oh-so-very useful!
What won't we do?
It's a dumb idea to just put you on the stage, ask you to present to the room, then tell you what you did wrong. And because it's dumb, we won't do it. What we will do is give you the big ideas and tools you need to make your presentations better - to make them work.
Because you're smart enough to figure out how to use the Big Ideas in your own circumstances, we'll help you do just that... but not by just throwing you in at the deep end.
Oh, and this isn't a course about PowerPoint. The ideas and principles we cover here apply to situations where you use any software - or none!



Okay, but what do I get?
Brace yourself!
Once you've paid up, you'll get:
1.Two webinars before the event that you can attend live or see on replay: replay is more convenient, true, but you can't ask questions that way!
2.An email pre-training course to help you get the basics of presenting (and some of the advanced stuff too!) before you even get to the live event
3.Half day, hugely-focused training session
4.Hard copy of Simon's last book - Presentation Genius. A real, high-street best seller... not just your pretend stuff from Amazon, where a book can be in a niche of two books and be the best-seller for half an hour! (Seriously, how do you think there are so many 'best-selling authors' out there?)
5.Electronic copy of Simon's previous book "Presenting Made Simple" along with half a dozen or so "how-to" documents
6.A 50% discount code for Simon's online training resources - you can use some of them as revision material, as they expand into the things we don't have time to cover in just one session
7.Discounted access to Simon for follow-up one-on-one coaching, either live or via video-link. (Note that this offer is available for three months after the live workshop)
Feeling the sweat yet?
That sounds useful - but will it be any good?
Fair question. All too often trainers are just trying to:
Make clones who use the presentation style that works for them

Make some money
Point two is reasonable - we're trying to make a bit of money too, but the difference between most trainers and Simon is that he's researched the science of what works in presentations. It's not just about "What worked for Simon".
Let's face it, that might be great if you're Simon, but unless you're exactly like him that's less helpful. (And frankly if you are like him, you need more help than this training day is going to give you! ;) )
Here's the deal... if you buy, come and pay attention, but at the end you don't think it's been worthwhile, just have a quiet word with us and we'll give you a full refund... and we'll let you keep the goodies such as the books and free training!

We can't be any more reassuring, so what have you got to lose?
Sounds good, and...?
And what?
Okay, how's this... if you book a place, and then someone else cites you as the reason they book a place, we'll donate £20 to a charity. We'll decide which charity by show of hands at the session itself. All we ask is that you're honest about it - don't fake it! ;)
---
What about the venue?
It's lovely. Quite posh in fact - and right in the middle of Newcastle. The nearest car park is probably the one near Dance City, about ten minutes' walk away: I've always managed to get a space there, though you do have to park near the top. There are other car parks almost as near.
There are so many buses into the city centre I don't know where to start, but if you're using public transport then the Metro is great. Central Station is barely five minutes' walk away (less if it's raining - trust me, I've done it!)
Any add ons?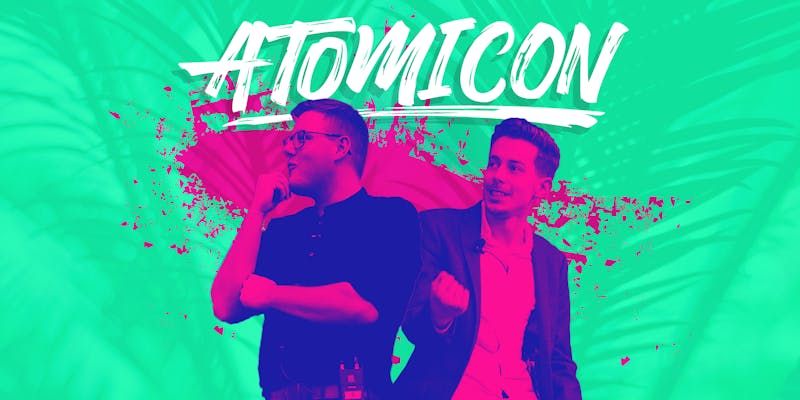 Oh gosh, yes!  But what do you mean you want add-ons?!  Isn't this enough?! But as it happens, the same venue is hosting the astonishing firstAndrew & PeteAtomicon content marketing convention the next day. If you're travelling in for the presentation training, it's a no-brainer to buy a ticket for that, too!

When & Where

The Assembly Rooms
Fenkle Street
NE1 5XU Newcastle upon Tyne
United Kingdom


Thursday, 7 March 2019 from 14:00 to 17:00 (GMT)
Add to my calendar
Organiser
Simon is one of the UK's top few presentation skills trainers - to the point where's he's often known by the name of his last book ... Presentation Genius. He trains private individuals before they start their company all the way to multi-nationals like Dell. Private and in-house training is amazing, but expensive...
... so...
but he tends to do only one (or maybe two) public courses in the UK each year, so if you're reading this, the chances are he's doing one soon - and you should grab a place!