Description


Black History Studies presents the 'Breaking The Legacy Film Festival'
REPARATIONS


The Price of Memory
Directed by Karen Marks Mafundikwa
Duration: 83 minutes.
Genre: Documentary
Trailer: https://youtu.be/AeU3hPiakNU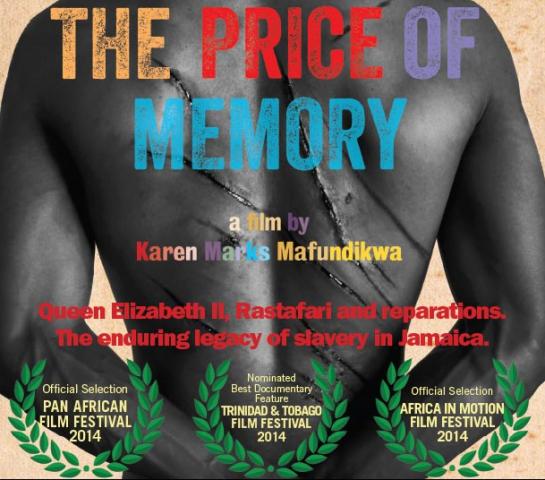 It's 2002 and Queen Elizabeth II visits Jamaica for her Golden Jubilee Celebrations. While there, she is petitioned by a small group of Rastafari for slavery reparations. For Rastafari, reparations is linked to a desire to return to Africa, the homeland of their African ancestors who were enslaved in Jamaica during British colonial rule. The film traces this petition, as well as a reparations lawsuit against the Queen. We follow Ras Lion, a mystic Rasta farmer who petitioned the Queen, and Michael Lorne, the attorney who brought the lawsuit. In the background are the stories of earlier Rastas who pursued reparations in the 1960s, and who undertook a historic mission to Africa to organize official repatriation.
The film explores the impact of slavery on independent Jamaica, following the filmmaker on a journey, during which the question of reparations reaches Parliament in both Jamaica and the UK. Filmed over a decade, The Price of Memory is a compelling exploration of the enduring legacies of slavery and the case for reparations.

There will be a discussion after the screening.


FOR ONE DATE ONLY!
THIS SCREENING IS NOT TO BE MISSED



BREAKING THE LEGACY FILM FESTIVAL
Breaking The Legacy Film Festival is a programme of screenings to observe the annual African Holocaust Remembrance Day held on 23 August. The screenings will highlight the history of Africa before and after enslavement, the impact and legacy of enslavement on African people and societies and examine the movement for reparations for historical injustices. The film festival will feature a mixture of feature films and documentaries. We will incorporate presentations and facilitate engaging post film discussions with audience members.


The International Decade for People of African Descent, proclaimed by General Assembly resolution 68/237 and to be observed from 2015 to 2024, provides a solid framework for the United Nations, Member States, civil society and all other relevant actors to join together with people of African descent and take effective measures for the implementation of the programme of activities in the spirit of recognition, justice and development.

It is also a unique opportunity to build on the International Year for People of African Descent, which was observed by the international community in 2011, and to further underline the important contribution made by people of African descent to our societies and to propose concrete measures to promote their full inclusion and to combat racism, racial discrimination, xenophobia and related intolerance.