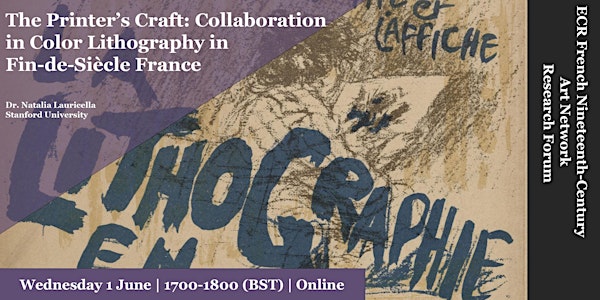 The Printer's Craft: Collaboration in Color Lithography
ECR French Nineteenth-Century Art Network Research Forum:The Printer's Craft: Collaboration in Color Lithography in Fin-de-Siècle France
About this event
ECR French Nineteenth-Century Art Network Research Forum:
The Printer's Craft: Collaboration in Color Lithography in Fin-de-Siècle France - Dr. Natalia Lauricella
In fin-de-siècle Paris, avant-garde artists turned to the medium of color lithography to explore new modes of expression. This practice, however, was technically complex and thus required the involvement and expertise of a professional printer. Many artists, including the Nabis, the Neo-Impressionists, and Auguste Rodin, sought the help of master printer Auguste Clot. In turn, Clot became an invaluable collaborator, performing the various labor-intensive steps required to produce color art lithographs, from preparation to final printing. This talk explores the master printer's craft and labor in the production of original color lithographs in fin-de-siècle France in order to recast the history of modern art through the lens of collaboration.
Natalia Lauricella is a Postdoctoral Teaching Fellow in the Department of Art & Art History at Stanford University. She is a specialist in the history of print, with a focus on printmaking in late nineteenth-century France. She received her BA from Barnard College, her MA from the Courtauld Institute of Art, and her PhD from the University of Southern California. Prior to pursuing her PhD, Natalia worked as a curatorial assistant of collections and exhibitions at the Solomon R. Guggenheim Museum in New York.
This event will take place at 5pm (BST)
This is a virtual event - the Zoom link will be sent out on the day. For any issues please get in contact via email and we will try and help as best we can.
This event is open to anyone with an interest in the topic discussed and is not limited to current PhD's like our other events.
About the Research Forum:
ECR French Nineteenth-Century Art Network Research Forum is a virtually held research forum that allows recent PhD graduates, early career researchers as well as research fellows to present their most recent research. The forum aims to expose new and emerging scholarship and scholars engaging in exciting areas of research. The sessions will last around one hour with the opportunity to engage with the research with questions and answers after. The events are open to all.
About the Network:
The network is formed of current PhD Students and ECR's working in Nineteenth-century visual culture. We have sessions monthly for students to virtually meet, allowing them to develop their skills and share their research. It is global, open to those located anywhere in the world who wish to join. Feel free to join, participate and we hope to create an engaging, diverse, fun and rewarding community.
For further updates/information follow our Twitter or sign up to our mailing list or if you wish drop us an email ecr.nineteen@gmail.com