Virtual Flatpack Pub Quiz, Thursday 28 Jan, 7-8.30pm
About this event
Virtual Flatpack Pub Quiz, Thursday 28 Jan, 7-8.30pm
Before we gird our collective loins for the election battles ahead we, at Flatpack Towers, thought it would be grand to kick off the year of with a quiz – no teams - open to all – put together by renowned quizmaster Peter Barden with rounds hosted by comedian Miles Jupp, Heydon Prowse, poet Iona Lee and John Harris of the Guardian as well as our own Flatpack 2021 team.
So be ready on Thursday 28 January at 7.00 pm to pour yourselves a large drink and settle in for an hour and half of mind-expanding questions set by our team of stellar questioneers. Feel free to invite your friends and neighbours. It's free to take part but you need to register at Eventbrite - just follow this link, and we look forward to seeing you at the pub!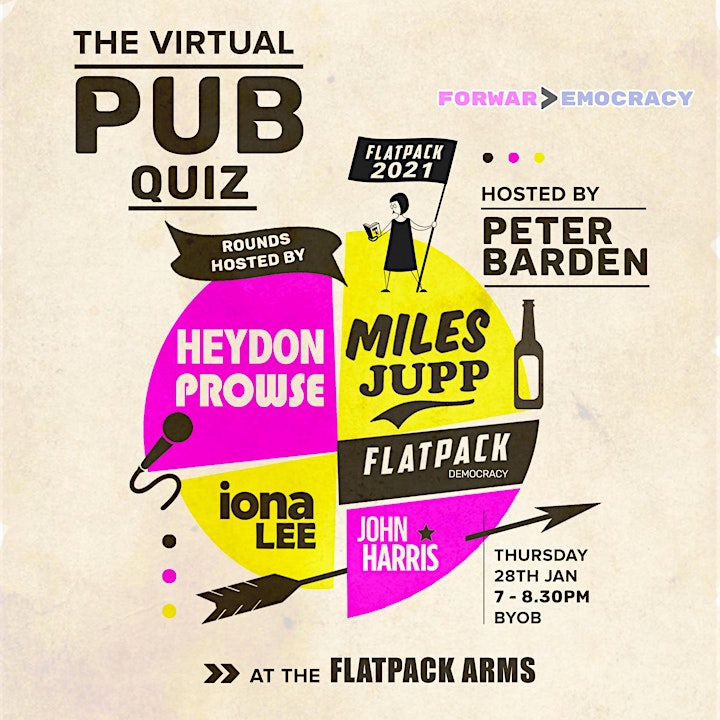 Organiser of The Pub Quiz at the Flatpack Arrrms
Flatpack Democracy is a DIY method for communities to win back their council as non-party candidates, pioneered by multiple towns around the UK.
The Flatpack Democracy campaign supports people to reclaim local politics from the systems and political parties that are currently failing them. We want to support communities to take back power by winning local elections, of which there are thousands in May 2021.
We will work with groups who want to stand for election and, once elected, collaborate to make their parish, town or district councils ambitious, effective and responsive to their local community's needs.