Join New York Times bestselling author Alec Ross as he proposes a new social contract fit for the 21st Century
About this event
RSA Fellows and guests are warmly invited to join this Fellow-led event, in respect of which questions in advance are welcome.
In the face of unprecedented global change, New York Times bestselling author Alec Ross proposes a new social contract to restore the balance of power between government, citizens, and business. For 150 years, there has been a contract. Companies hold the power to shape our daily lives. The state holds the power to make them fall in line. And the people hold the power to choose their leaders. But now, this balance has shaken loose. As the market consolidates, the lines between big business and the halls of Congress have become razor-thin. Private companies have become as powerful as countries. As Walter Isaacson said about Alec Ross's first book, The Industries of the Future, "The future is already hitting us, and Ross shows how it can be exciting rather than frightening."
Through interviews with the world's most influential thinkers and stories of corporate activism and malfeasance, government failure and renewal, and innovative economic and political models, Ross proposes a new social contract—one that resets the equilibrium between corporations, the governing, and the governed.
Questions may be submitted in advance to sofsrsa@yahoo.com by 12:00 BST on 19 October for collating by theme. Please note that the event will be recorded, and latecomers will not be admitted after 18:15 BST.
Bio
Alec Ross is the NYT best-selling author of The Industries of the Future and an expert on innovation. Currently a Visiting Professor at Bologna Business school, Università di Bologna, he served in the Presidential Administration of Barack Obama for four years. He served as Senior Advisor for Innovation to Secretary of State Hillary Clinton. He is also a Board Partner at Amplo, a global venture capital firm. Alec Ross has also previously spoken at the RSA on the industries of the future, the video of this event can be found at https://www.thersa.org/video/events/2016/03/alec-ross-on-the-industries-of-the-future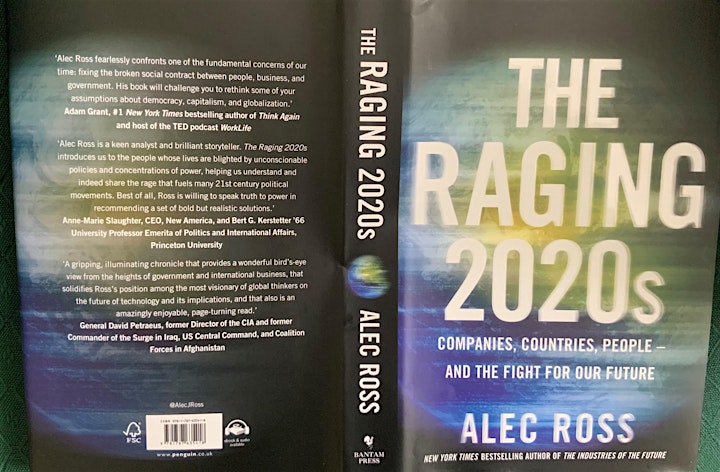 Organiser of The Raging 2020s