The Monday Xtra History Sessions kicks off with what's going to be simply THE best Reggae Fun, History, Music, Quiz & Prizes event ever!
About this event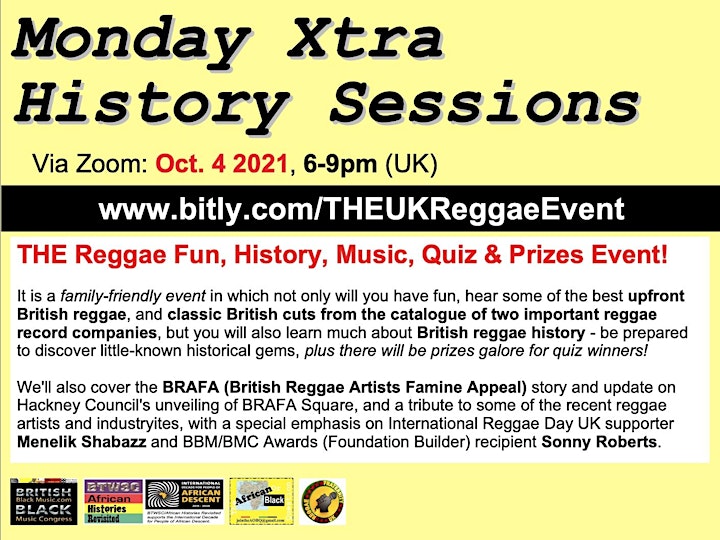 This event is delivered by BBM/BMC (BritishBlackMusic.com/Black Music Congress), Reggae Fraternity UK, BTWSC/African Histories Revisited and partners (t.b.c).
It is a family-friendly edutaiment event led by historical musicologist Kwaku and Reggae Fraternity UK and Chaaawaaa Radio's Colin 'CeeBee' Brown, in which not only will you have fun, hear some of the best upfront British reggae, and classic British cuts from the catalogue of important reggae record companies played by Chaaawaaa Radio, M-Press Abena Lee and DJ Dapps, but you will also learn much about British reggae history through presentations, and quizzes by True Identity - be prepared to discover little-known historical gems, plus there will be prizes galore for quiz winners!
We'll also cover the BRAFA (British Reggae Artists Famine Appeal) story and update on Hackney Council's unveiling of BRAFA Square, and a tribute to some of the recently departed reggae artists and industryites, with a special emphasis on International Reggae Day UK supporter Menelik Shabazz (read this) and BBM/BMC Awards (Foundation Builder) recipient Sonny Roberts. There will also be an update on the TMC Studios (Tooting Music Centre) Reggae Plaque (read this)!
So since you've landed on this page, do yourself a favour and book now - if you've attended any of our previous events, and know that we deliver.
>>>>>>>>>>>>>>>>>>>>>>>>>
An African History Season event.
+ Here is our African History Season 2021 Monday Xtra History Sessions programme with Kwaku's exclusive video-assisted opening presentations (you can book some of the events now at https://AfricanHistoryPlus.eventbrite.com):
Sep. 27 What's British African History? A Free Online Discussion Forum
Sep. 30 (Thursday) Police & Criminalising Of African Youths guest presenter Dr Adam Elliott-Cooper
Oct. 4 THE Reggae Fun, History, Music, Quiz & Prizes Event! guest presenter Colin 'CeeBee' Brown
Oct. 11 Interrogating Language 4: Identity, Decolonising, Reparations; Araning & Pan-Africanism: Should Africans Have African Names?
Oct. 18 London African History Through Representations In The Capital
Oct. 25 Today Brixton Is Locked Off: The Day Black Lives Matter Shut Down Brixton
Nov. 1 Where Would Reggae Be If It Were Not For Migration?
Nov. 8 Police & Criminalising Of African Youths guest presenter Bro Cecil Gutzmore
Nov. 15 1974: That Carib Club Story And Other Clubland Horror Histories
Nov. 22 Marking The Centenary Of 1900 The Pan-African Conference In London
Nov. 29 The True History Of African/Black History Month In The UK
Dec. 6 African History In Britain: Those Who Built The Foundation
Dec. 13 The Men With Ships And Preaching Back To Africa Before Marcus Garvey
Dec. 20 UK African Women Self-Organising (Marking the 57th anniversary of the passing of Claudia Jones. Special guests t.b.c)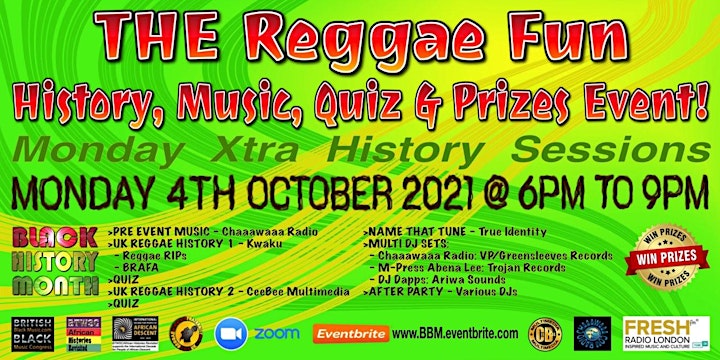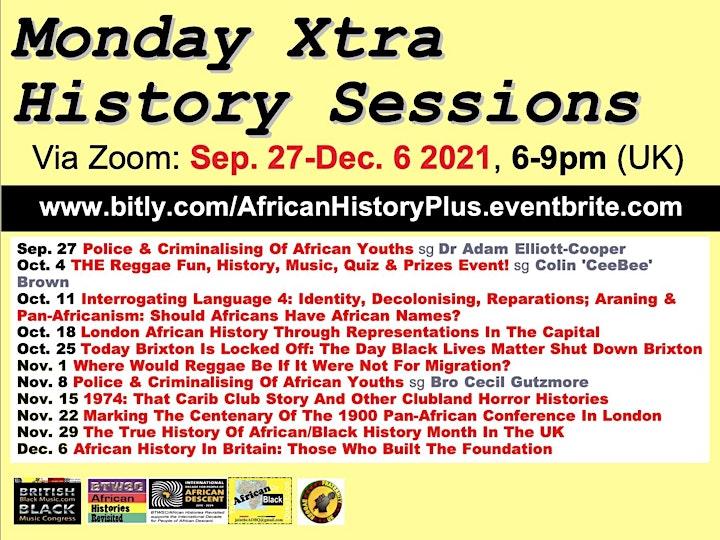 Date and time
Location
Refund policy
Organiser of THE Reggae Fun, History, Music, Quiz & Prizes Event!
We organise events with other partners around black music, culture, business and copyright.
Please note that because of non-attendance, we over-book all free events, so entry and seating is on a first come, first served basis.
Please note that we photograph and/or film/video our events. By attending, you are deemed to implied your conscent. NO Filming/Video recording events by attendees without prior permission from organisers.
All our events are listed at: www.BBM.eventbrite.com