Sales Have Ended
Registrations are closed
Tickets for the 'The Resilience Programme: Evolving Ideas' workshop are sold out.
Sales Have Ended
Registrations are closed
Tickets for the 'The Resilience Programme: Evolving Ideas' workshop are sold out.
The Evolving Ideas workshop will encourage you to foster new ideas, skills and ways of working to develop your practice
About this event
The Evolving Ideas workshop is part of the Resilience Programme, designed to help makers based in Scotland navigate the particularly challenging circumstances resulting from the Coronavirus (COVID-19) pandemic via a supported mentoring culture in the Scottish craft community.
Through inspiring examples, you will be encouraged to think about how knowledge sharing, networks and collaboration can foster new skills and ways of working, or support development of new ideas for your practice.
We will be joined by project partner Heritage Craft Association's (HCA) Endangered Crafts Manager Mary Lewis, and oak swill basket maker Lorna Singleton.
With the HCA team, Mary provides HCA's Endangered Crafts Fund grant recipients with additional support, including mentoring, to offer them the opportunity to plan projects, articulate ideas and evaluate their success. Receiving a grant from the Fund in 2020, Lorna bought a boiler and swiller's mares (a special type of shave horse) to enable her to teach oak swill basket making to small groups in Cumbria. As part of the Fund process Mary and Lorna developed some straightforward, measurable targets to complete the project. In Lorna's case this was about acquiring specialist equipment that would allow her to operate her business and train people independently. Lorna and Mary have had a number of phone meetings to monitor progress, to reflect on and evaluate the outcomes and to talk about next steps.
Understanding the positive effects mentoring can have on creative business practice development, you will explore how mentoring differs from teaching (and other forms of support), and be introduced to resources to support good mentoring practice. This will assist your to prepare an application for mentoring support via the Resilience Programme if you wish.
The event will be hosted on Zoom, recorded and captions provided.
Image (above): Lorna Singleton in her studio, photographer: Thom Atkinson
The Resilience Programme - Mentor / Mentee Strand
'Evolving Ideas' is the second of two workshops to support applications to the Mentor / Mentee strand of Applied Arts Scotland's and Craft Scotland's Resilience Programme.
The Mentor / Mentee strand is for makers looking to regroup after the disruption of last year, and can support building ambitious future plans through new ways of working and having the time / space for reflection. This strand invites applications from makers who are interested in being mentored by a craft and / or creative industry professional.
The first workshop is The Resilience Programme: Make It Happen, 10:00-13:00 on Thursday 6 May 2021.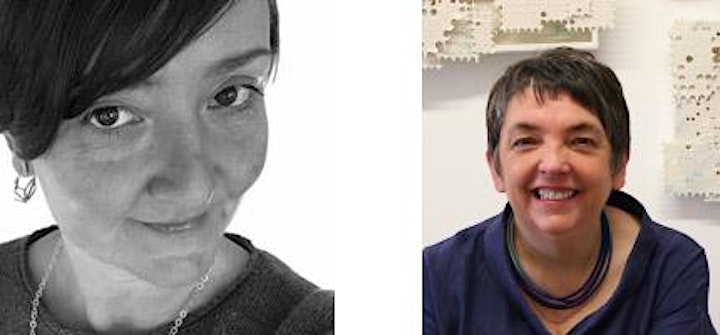 Workshop Leaders
Mary Lewis (image above left) comes from a background steeped in craft. From an early age she could be found in a coracle or on a shave horse and is now a keen knitter and occasional basket maker. Her work experience includes fundraising, project management, and developing accredited training and apprenticeships for coppice crafts. After a few years of yurt life in the South Downs managing the Sustainability Centre, she took up the role of HCA's Endangered Crafts Officer, making interventions, raising funds and developing projects to prevent heritage crafts skills and knowledge from becoming extinct. Mary has acted as a mentor for a number of crafts people through her former position as a trustee of the Bill Hogarth MBE Memorial Apprenticeship Trust as Endangered Crafts Officer with HCA.
The HCA's Endangered Crafts Fund enables craft practitioners to apply for small grants to fund projects that support and promote endangered crafts listed on the HCA Red List of Endangered Crafts.
Lorna Singleton (image above top) is one of the UK's last remaining 'swillers', specialists in woven products made with coppiced oak. Lorna graduated as an apprentice of the Bill Hogarth MBE Memorial Apprenticeship Trust, following three years of intensive tuition in coppice woodland management. Using simple hand tools and techniques from generations past, Lorna creates baskets based on the traditional patterns from South Cumbrian region as well as collaborating on contemporary applications for this historic practice.
Carol Sinclair (image above right) has been running her own business for 30 years, combining her ceramics practice with her work as a freelance business adviser, trainer and project manager. She has set up mentor programmes for a variety of arts organisation and has developed and delivered mentor training over many years, Carol is the Chair of Applied Arts Scotland and craft representative on the Scottish Government Creative Industries Leadership Group, reporting to Fiona Hyslop, Cabinet Secretary for Economy, Fair Work and Culture.

The Heritage Crafts Association is the advocacy body for traditional heritage crafts. Working in partnership with Government and key agencies, it provides a focus for craftspeople, groups, societies and guilds, as well as individuals who care about the loss of traditional crafts skills, and works towards a healthy and sustainable framework for the future.
The Resilience Programme is funded by Creative Scotland.