Description
Step inside Bloomsbury Publishing as we explore the revival of Broadway musicals and theatre from Angels in America to Hamilton.
Join us as Chris Jones, chief theatre critic at the Chicago Tribune, talks to Matt Wolf, theatre critic of the International New York Times, on how theatre thrived by finally figuring out how to embrace the bold statement and insert itself into the national conversation for one night only. Chris and Matt will debate how key productions staged since the early 1990s have swept through Broadway but also London theatres and have much to say about the state of attitudes in society and culture on both sides of the pond then and now.
"Some critics get it right, some critics get it wrong, but Chris Jones is one of the only critics who consistently reviews all shows trying to be helpful to its creators so they can put right what is wrong. Chris brings his formidable analytical skills to examining the theatrical tissue and political discourse that has led to the spectacular rebirth of the American play and musical on Broadway. A hugely informative resume of the rise up over the last 25 years of the American theatre from "Angels in America" to "Hamilton". It puts you into the room as it happened." – Cameron Mackintosh, theatrical producer
We can't wait to host this very special theatre event at Bloomsbury.
Date: Tuesday, November 27th
Timing: Doors open and drinks from 6pm. Chris and Matt in conversation, followed by Q&A with audience members, from 6:30pm to 8:00pm
Venue: Bloomsbury Publishing, 50 Bedford Square, WC1B 3DP
Nearest station: Tottenham Court Road
Tickets: £20 for adults / £15 students and concessions. Every ticket includes a copy of Rise Up! Broadway and American Society from 'Angels in America' to 'Hamilton' by Chris Jones.
This event is hosted by Bloomsbury Institute, a division of Bloomsbury Publishing. Please read our Event Terms and Conditions carefully as by buying a ticket to this event, you confirm that you accept these terms and condition and that you agree to comply with them, alongside the Eventbrite terms and conditions.
***
Chris Jones has been the chief theater critic and Sunday culture columnist of the Chicago Tribune since 2002 and he is author of Bigger, Brighter, Louder: 150 Years of Chicago Theater (2013). His work has appeared often in the New York Times, Washington Post, Los Angeles Times, American Theater and many other publications. In 2014, he became the director of the Eugene O'Neill Theater Center's National Critics Institute in Waterford, Connecticut. In 2001, Jones was named by American Theater magazine as one of the most influential theater critics in America. In 2015, he was the winner of Cornell University's George W. Nathan Award, the most prestigious honour for drama critics in the United States.

Matt Wolf is London theatre critic of The International New York Times (formerly The International Herald Tribune) and London correspondent for the broadway.com website; he spent 21 years as London arts and theatre critic for the Associated Press and over 13 years as Variety's UK drama critic; more recently, he helped to co-found the website known as The Arts Desk (www.theartsdesk.com), where he is theatre editor and chief theatre critic. He has been on the judging panel of the Evening Standard Theatre Awards since 2009 and is currently embarked upon a book about performing Stephen Sondheim, due for publication in 2020.

***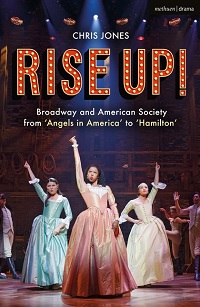 Penned by one of America's best-known daily theatre critics and organized chronologically, this lively and readable book tells the story of Broadway's renaissance from the darkest days of the AIDS crisis, via the disaster that was Spiderman: Turn off the Dark through the unparalleled financial, artistic and political success of Lin-Manuel Miranda's Hamilton. It is the story of the embrace of risk and substance. In so doing, Chris Jones makes the point that the theatre thrived by finally figuring out how to embrace the bold statement and insert itself into the national conversation - only to find out in 2016 that a hefty sector of the American public had not been listening to what it had to say.
Chris Jones was in the theatres when and where it mattered. He takes readers from the moment when Tony Kushner's angel crashed (quite literally) through the ceiling of prejudice and religious intolerance to the triumph of Hamilton, with the coda of the Broadway cast addressing a new Republican vice-president from the stage. That complex performance - at once indicative of the theatre's new clout and its inability to fully change American society for the better - is the final scene of the book.
"A vivid compelling read that will form an important part of any Broadway-lover's bookshelf" – Matt Wolf, theatre critic