Location
Asia House
63 New Cavendish Street
London
W1G 7LP
United Kingdom
Description
The Rise of the Modest Revolution
Dian Pelangi, Professor Reina Lewis, Kulsum Patel and Raishma Islam in conversation
#AsiaHouseArts
FREE FOR STUDENTS!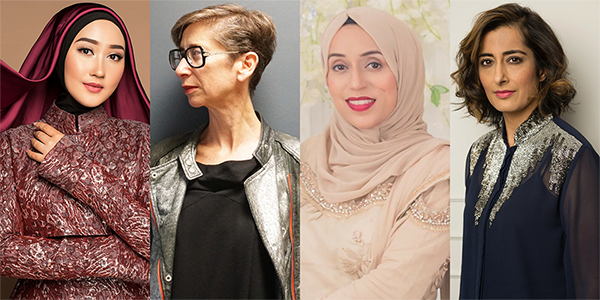 Modest fashion is a billion dollar global business that is now influencing the mainstream market. Brands such as Dolce & Gabbana are catering to the modest buyer, hijab-wearing models are appearing in high-profile fashion and beauty campaigns and Muslim digital influencers command as many millions of followers as their non-covered counterparts.
We are thrilled to welcome digital influencer, designer and author of Hijab Street Style and Brain, Beauty, Belief, Dian Pelangi, who is joining us from her native Indonesia for a panel discussion on the different facets of the industry. Alongside her will be Reina Lewis, Centenary Professor of Cultural Studies at London College of Fashion, UAL who has been researching and publishing on modest fashion since the mid-2000s. Kulsum Patel, director and co-founder of Ayah – a modest fashion consultancy service will also be part of the panel. Our fourth speaker will be couturier Raishma Islam, whose eponymous brand launched in 1998 and caters for both modest non-modest markets.
The discussion will centre around the rise of modest fashion, how this is affecting the fashion and publishing market - with a particular emphasis on the Indonesian market and will also look at the similarities and differences in modest fashion around the world. Our moderator for the evening with be journalist and moderator Remona Aly.
Modest fashion outfits provided by the brands Raishma and Dian Pelangi will be modelled during the event.

This event is in partnership with London Book & Screen Week and The National Organising Committee for indonesia as Market Focus Country at the 2019 London Book Fair.

With thanks to the Embassy of the Republic of Indonesia to the United Kingdom, Ireland & IMO in London.



About Dian Pelangi
Dian Pelangi is an Indonesian designer and digital influencer who is credited with pushing the traditional boundaries of Muslim fashion. She has 4.9 million followers on Instagram, influencing a broad demographic with her modern take on Muslim dress. Pelangi graduated from École Supérieure des Arts et techniques de la Mode in Paris in 2008. Her book Hijab Street Style presents over 700 Muslim/Muslimah street style outfits from cities across Indonesia and Southeast Asia and was a bestseller in Indonesia and Malaysia. She is also the author of Brain, Beauty, Belief which explores her life and style journey. In 2015, Pelangi took part in the 'Designer in Residence' initiative at the London College of Fashion, where she strongly advocated for diversity in fashion, organising a hijab styling workshop as part of the British Council's international fashion showcase. In 2018, she was chosen as one of Asia's '30 Under 30' by Forbes magazine.


About Professor Reina Lewis
Reina Lewis is Centenary Professor of Cultural Studies at London College of Fashion, University of the Arts London. Her books include: Muslim Fashion: Contemporary Style Cultures (2015), Rethinking Orientalism: Women, Travel and the Ottoman Harem (2004), and Gendering Orientalism: Race, Femininity and Representation (1996). She is editor of Modest Fashion: Styling Bodies, Mediating Faith, (2013). Reina was consulting curator for the exhibition Contemporary Muslim Fashions, at the Fine Art Museums of San Francisco in 2018 (touring to Frankfurt 2019) and is co-editor of the accompanying book with Jill D'Allesandro. Reina is a frequent media commentator – most recently for the New York Times, le Monde, BBC World, BBC Radio, CBC radio, The Guardian, The Times, Marie-Claire magazine, Elle Brazil, Businessoffashion.com, Fortune.com, and Huffington Post. Reina Lewis convenes the public talk series Faith and Fashion at the London College of Fashion, see http://www.arts.ac.uk/research/research-projects/current-projects/faith-and-fashion/


About Kulsum Patel
Kulsum Patel is the Director and Co-Founder of Ayah – a modest fashion consultancy service. Prior to this she was CEO and Director of Ayah Couture – a luxury couture bridal brand. Kulsum has also worked within management consultancy and was a Buying Director at the headquarters of a UK-based international importer and distributor of retail clothing. She represented the firm through multiple international trade conferences in Europe and Asia and was the liaison for stakeholders from East Asia.


About Remona Aly
Remona Aly is a journalist and broadcaster who focuses on faith, lifestyle and identity. She writes for The Guardian, is a regular contributor to BBC Radio 2's Pause for Thought and a presenter on BBC Radio 4's Something Understood. Remona is Director of Communications for Exploring Islam Foundation which specialises in PR campaigns and creative resources. She is the former Deputy Editor of emel, the British Muslim lifestyle magazine.


About Raishma
What started solely as a couture house 18 years ago, developed into multiple international fashion labels. Maintaining a bespoke and bridal service, Raishma developed a ready-to-wear line for the premium high street market. Using her extensive expertise as a couturier, Raishma managed to develop a commercial line with affordable dresses without comprising on the quality and design aesthetic. Raishma launched online at John Lewis and House of Fraser in 2016, and currently retails with stockists across the Middle East, Australia, India and the USA. Raishma has presented her collections at London, New York and Paris Fashion Week, The Mercedes Benz Fashion Week in Doha, The Brides Show in Abu Dhabi, and most recently at the Oriental Fashion Show in Marrakesh. Raishma was recently awarded with Best Retail Business of the Year at the British Small Business Awards. In 2018, Raishma launched a luxury women's pret brand 'CLAIY 'in addition to a luxury kids wear label 'CLAUWD'. Located in Marylebone, London; Raishma's flagship boutique houses her ready to wear collections and couture gowns. The designer's boutique has a luxurious, award-winning interior, offering the perfect environment for her clientele to embark on a unique experience.
---


This event is part of the Asia House 2019 Winter Arts and Learning Programme, a completely unique initiative in the UK in presenting a pan-Asian artistic and cultural programme with a scope of more than 40 countries in the region. Through our programme of events on arts, culture and education we act as a catalyst for the discovery of the diverse arts and cultures of Asia and the Asian diaspora, and serve as a bridge of understanding between the UK and Asia.
Sign up to our mailing list for all the latest on this year's events, and visit our Eventbrite profile to book more tickets!