Description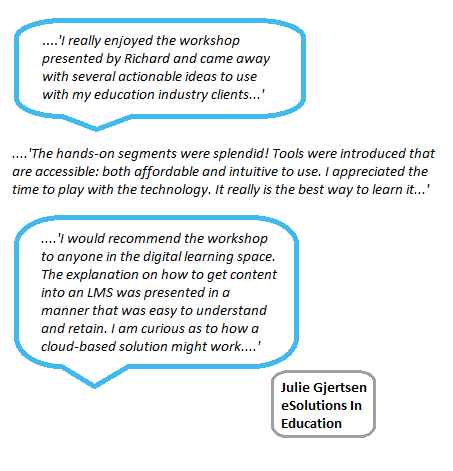 Do you know your LMS from your CMS? Your CRM from your MIS? How about your virtual classroom from your online webinar?
Like most industrial sectors, Training & Education is seeing a rapid rise in the use of online technologies. From Course Authoring, to Online Delivery, to Learner Feedback, Assessment, Collaboration, Tracking and more, a plethora of edtech is disrupting the ways in which we do business as educators.
And it's not just the delivery of learning that tech is disrupting. As businesses, those in Training & Education need to stay abreast of new ways of marketing and selling courses, new ways of taking online payments (Bitcoin anyone?) and opportunities for opening up new markets.
This free, half-day face-to-face workshop acts as an essential primer to the latest technology being adopted by training organizations, what it can do, and how you can go about evaluating its use for your business.
Agenda
Edtech – Who are the new kids in class?
Rapid Content Authoring - Tools and methodologies.
Easy Content Distribution - to LMS or not to LMS?
Engaging the Learner - Collaboration, Activity and Feedback.
Assignments, Assessments & Accreditation - Whaddaya know?
Synchronicity - How important is real-time?
E-commerce & Registrations - Show me the money!
About the Tutor
Richard started life as a teacher in London's east End in the UK. By 1998 he was running the UK's largest vocational business studies program for 16-18 year olds, during which period he started the first 'Young Enterprise' group in the east London area. This enabled his disadvantaged students direct access to business start-up assistance and advice.
Sent to the University of North London for a pilot elearning program, Richard discovered WebCT - one of the world's first Learning Management Systems. Putting his business studies experience to good use - he contacted WebCT in Canada and set-up their first overseas reseller. The new company, Connected Learning Ltd, swiftly grew and by 1999 were developing 'Year 2000 Bug Buster' courses for Birkbeck, University of London.
Connected Learning Ltd went on to develop well known web-content authoring tool - Course Genie, an application that rapidly converted Word format documents into HTML and SCORM-based elearning.
Connected Learning Ltd were acquired in 2005 by webinar technology company, Wimba. Serving as Wimba's new VP Client Services, EMEA, Richard was again sent to a University, this time as an Associate Professor at Leeds Metropolitan University. The purpose of this project was to work with them to evaluate and choose a live classroom technology for their growing online programs. By this time, Richard was well versed in the use of LMS, content authoring, webinar technologies and Instructional Design!
Wimba was then acquired by Blackboard. As one of the company's principal trainers, Richard found himself responsible for co-ordinating and delivering Blackboard training throughout the EMEA region. Training gigs in Jordan, UAE, Portugal, France, Sweden, the Azores (lovely!) as well as the UK and US followed.
Richard took 2008 out. He set up an educational charity and installed computer classrooms, along with electricity generators and appropriate training, into schools in Freetown, Sierra Leone.
After a year out of business, Richard had a eureka moment - help people sell courses! Setting up a new technology company, Connected Shopping Ltd, Richard went about developing Course Merchant - an e-commerce front-end for popular LMS systems. The company now has 250+ clients with combined annual online course sales approaching $100m.
Handing day-to-day control of the company to his managers, Richard has returned to his first love - teaching. He has recently developed a new Instructional Design methodology - RAPid - a fast, but pedagogically sound way of identifying suitable learning media for a given course of instruction, and the teaching strategies to go with it.