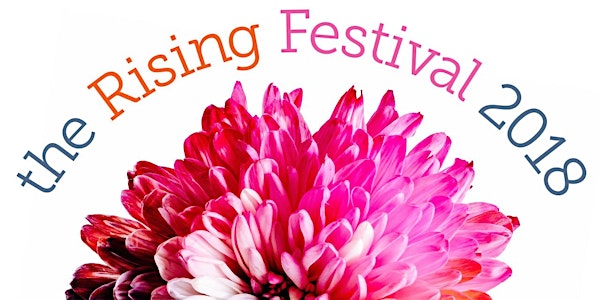 The Rising Festival 'Evoke a Journey of Change' - Celebrating International...
Event Information
Location
St. Pauls Cambridge
Hills Road
Cambridge
CB2 1JP
United Kingdom
Description
NOW SOLD OUT!
Reach your true potential and create a life you love!
This vibrant festival is a day to celebrate 100 years since women won the right to vote, and offers a day of inspiration, self-care and workshops to kick-start a twelve month programme of change.
Are you feeling stuck and looking at ways to overcome personal struggles or gremlins?
Have you felt overwhelmed or stressed with personal or work pressures and wanting to find ways to increase your resilience and balance competing needs?
Have you done a health check recently or are you neglecting your overall well-being and ignoring symptoms of burnout or fatigue?
Would you like a confidence boost and are you looking for ways to discover and explore your passions?
Are you looking for ways to fast track your business or career and want to learn from others and how they overcame barriers and challenges?
Or do you simply want to be surround yourself with positive women and soak in inspiration?
Invest in yourself and your happiness, and immerse yourself in meaningful conversations on matters that are important and relevant to you. Courses, workshops and networking events will be offered across the year to provide you with connections, tools and techniques to make incremental changes in life. The Rising Festival and the 12 Month Programme of Change is designed to do this.
Offering as much goodness as we can squeeze in, tickets include:
Opportunity to network and meet with other fabulous women

All workshops included - pick and choose what you want to attend

Join in the discussion and attend 'Open Conversations'

Access to professional and personal advise - career advisers & various coaches will be dotted onsite throughout the day

Delicious healthy lunch by Wandering Yak

Refreshments available throughout the day plus endless supply of fruit kindly provided by Cambridge Fruit Co.

Gorgeous products and prizes up for grabs

Networking over drinks to close the event

Leave the day feeling inspired and supported
What happens on the day?
Workshops and open conversations will run alongside one another to give you the option to dip and dive into sessions that suit you.
Workshops:
An Introduction to the Imposter Phenomenon with Dr Theresa Simpkin, Senior Lecturer, ARU

Turning Points and the Pursuit of Passion with Neil Prem, Career Coach, Head of Engagement, Allia

Mindfulness with Carolyn Pallon, Mindfulness Teacher, Clinical Psychologist

Be seen, Be heard – 10 smart ways to raise your profile with Susan Ritchie, Executive and Leadership Coach

Be an International Superstar Communicator with Susan Heaton Wright of Executive Voice

How to Stop Stressing and Start Thriving with Adelle Shaw Flach of The Sweet Potato Agency
Want to join in a conversation and share your personal experience or gain insight and experience from others? Attend our 'Open Conversation' sessions with invited guests.
Open Conversations will focus on four key areas:
Well-being: What price is success at work?
We all know the importance of keeping well, healthy and happy in our personal lives, but what about at work – can we experience 'justified contentment'? As working adults we need "an environment to promote a state of contentment which allows employees to flourish and achieve full potential for the benefit of themselves and their organisation" (CIPD). The Well-being session will examine how we are doing as individuals, communities and as a nation and how sustainable this is for the future
Open conversation chaired by Leyla Okhai CEO of Diverse Minds; panellists are Dame Carol Black, Principle of Newnham College, Anna Harvey, Partner, Price Bailey Legal Services LLP and Alison Kindred-Byrne, Director, To the Moon and Back Fostering.
Confidence: Say goodbye to the confidence gap!
Do you have the confidence to get where we want to go? Low self-belief can be a critical barrier affecting our view of ourselves in the world, in our relationships and at work, particularly for women. How do you bounce back from failure and increase resilience? Not to be confused with competence, confidence can result in under-estimating your own abilities. In the confidence session, we will look at how to build self-confidence by considering how to deal with gender stereotyping, imposter phenomenon and self-limiting beliefs. Is it time for you to write a new script? Take the first steps on your own journey to greater self-confidence – you deserve it!
Open conversation chaired by Dr Lynn Morgan, CEO of Arthur Rank Hospice; panellists include Magdalena Zawisza, Senior Lecturer in Psychology, Anglia Ruskin University.
Balance: Can the personal and the professional life live in harmony?
It's very common to feel like we are living two lives; the one we live at work, and the one we live at home. When these are in conflict and the various roles we have in life are out of sync this can leave us feeling depleted, disconnected and unauthentic. Stress, burnout, frustration and unhappiness kicks in as a result of not being true to ourselves or flourishing in either world. In the Balance session we will look at how to merge our personal and professional lives by being true to ourselves, so that instead of split lives, we can live one full life with joy, care, energy and authenticity.
Open conversation panellists include: Helen Turner, Operations Manager, John Lewis and Rosa Dos Santos, MD of Exact Sourcing.
Mindset: What will be will be…or will it?
Is your mindset your friend or your foe - can it be rigid, unhelpful or self-limiting? Have you struggled with being the minority in the room or have you always felt 'different'? Would you like to strengthen or adopt a growth mindset to achieve your dreams and goals? In this sessions we will focus on understanding how thoughts are critical in growth and day to day experiences. We will share personal experiences in how to manage those gremlins to overcome personal and cultural challenges we face at home, at work and in society. What is your own personal definition of success? In this session we will explore the many meanings of success.
Open conversation chaired by Dame Carol Black, Principle of Newnham College.
Sponsorship and exhibition opportunities:
Big thank you to our sponsors Allia and Price Bailey Legal Services, and to our supporters Exact Resourcing, Cambridge Plants and Cambridge Fruit Co.
Align your brand with the network and send a clear message that you are committed to closing the gender gap and invested in creating a happy and healthy workforce. For more information and to discuss sponsorship options or to exhibit please contact: lily@therisingnetwork.com
If you are a startup or a small business, we are offering you the opportunity to exhibit for £300.00 - get in touch!
Tickets:
This is our first festival so we are offering special prices as we want to make sure everyone can celebrate this landmark moment with us.
Gold, Individual and Enterprise members - one ticket included in your membership! Join us HERE

EARLY BIRD Ticket non-member - £25.00 ends 10th February '18

Non-member Ticket - £35.00 after 10th February '18

Coach Ticket - £45.00: Participate on the day and offer your advice to others. You will be listed as one of our official 'Coaches' on the day to help you raise your profile and gain exposure.

Student Ticket - £15.00
We are committed to making all our events as inclusive and accessible as possible so we are also offering discounted and concession tickets to the following groups:
Registered Disabled
Over 65s
Benefits recipients
Refugees
How to Apply Your Discount Code - contact Ingrid Sims to obtain the appropriate code, email: ingrid@therisingnetwork.com
Give Back and Gift a Ticket
Why not give back and purchase a ticket(s) which we will offer to those who are not able to purchase a ticket, we will do our best to ensure everyone can attend and we welcome your support too. To show your support, register for 'Gift a Ticket'.
Date and time
Location
St. Pauls Cambridge
Hills Road
Cambridge
CB2 1JP
United Kingdom