The Rivers Trust Conference: Water at the heart of climate resilience
An online conference putting water at the centre of the climate conversation. Tuesday 16th - Wednesday 17th March
About this event
The Rivers Trust joins with Westcountry Rivers Trust to deliver its conference online for the first time. This year's event will explore climate change, one of the most pressing issues of our age.
Water is the life source of our planet and therefore it must be at the heart of policies and projects mitigating the effects of climate change, and building a society that is better prepared for its consequences. We know that the impacts of the climate crisis will be felt first and most dramatically through the effects on water resources. Changing rainfall patterns and increasing temperatures will result in more floods, more droughts and greater vulnerability to pollution.
As the world continues to experience the devastating effects of the COVID-19 pandemic, it is essential that water and climate are not overlooked in the national conversation, but made a fundamental aspect of a truly green – and we hope, blue - recovery. The work of the Rivers Trust Movement is critical to building our national climate resilience given the predicted impacts on the UK. To build resilience, we need to anticipate what the risks will be, understand what we want to protect and prioritise, and mobilise to accelerate the recovery of our depleted natural water resources.
At this conference, you will hear from speakers who are working on water and climate resilience from a variety of perspectives: environmental charities, government bodies, water companies, corporate partners, and campaigners. It is free to attend and available internationally, so join the conversation and take a step towards a more resilient future.
The event will be hosted via Zoom webinar - details of how to join will be sent to all registrants prior to the event.
Day One will run from 09:00-12:30 GMT and has a particular focus on European projects, whilst Day Two runs from 09:00-15:30 GMT and covers several themes within water and climate resilience.
---
About our supporters:
The conference is supported by Triple-C, which focuses on the capitalisation of successful initiatives and projects relating to the prevention and management of risks derived from climate change. Together with partners across the UK, Ireland, France, Spain and Portugal, the collective findings from more than 300 projects will be reviewed along with the investigation and promotion of actions that can ameliorate the impacts on society. These risks include flooding, drought, erosion, water pollution and fire from major habitat types including urban, agricultural, forest, coastal, marine, lakes and rivers.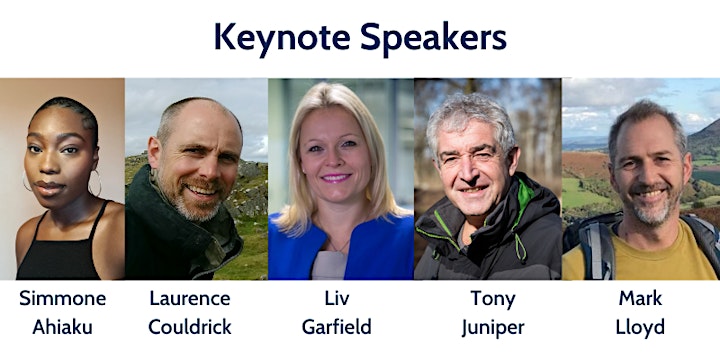 Keynote Speakers
Simmone Ahiaku is an award-winning changemaker, campaigner and activist who has contributed to environmental, social and cultural work in Bristol, London and across the UK. Previously the Fossil Free Campaigns Coordinator at People and Planet, Simmone developed her skills and campaigning around climate justice, collective liberation and solidarity. She uses facilitated workshops to explore climate colonialism and climate resistance histories.
Dr Laurence Couldrick is CEO of Westcountry Rivers Trust and has been pioneering catchment management for over 18 years. Over that time he has developed several multi-million pound projects to deliver catchment improvements, climate change adaptation and catchment resilience. Alongside this, he has used the complex problems society faces as a way of uniting the myriad of partnerships and interest groups in the West Country.
Liv Garfield CBE has been Chief Executive of Severn Trent since 2014. Severn Trent is one of the three largest water companies in the UK, and is a member of the FTSE100. Before this, she worked at BT and was responsible for the delivery of one of the fastest and most ambitious deployments of fibre broadband in the world. Liv was appointed a CBE in October 2020 for services to the water industry, and she plays a leading role in the sector's race to net zero.
Tony Juniper CBE is Chair of the official nature conservation agency Natural England. Previously he was the Executive Director for Advocacy and Campaigns at WWF-UK and President of the Wildlife Trusts. He was the Special Advisor for The Prince of Wales's International Sustainability Unit and Executive Director at Friends of the Earth.
Mark Lloyd joined The Rivers Trust as Chief Executive in 2019. He was previously Chief Executive of the Angling Trust & Fish Legal where he played a transformational role representing the UK's three million anglers and taking legal action against polluters. Prior to that, Mark was Chief Executive of Thames21, one of The Rivers Trust's current members. He is now focused on scaling up the work of The Rivers Trust through a new five-year strategy.
Agenda Outline
Tuesday 16th March
09.00 Welcome and introductions
- Laurence Couldrick keynote speech
- Tony Juniper keynote speech
09.45 Break
10.00 Protecting water resources
- Presentations + Q&A
11.00 Break
11.15 Holding water back
- Presentations + Q&A
12.30 End
Wednesday 17th March
09.00 Welcome
- Liv Garfield keynote speech
09.20 Abundance and scarcity: climate-related water challenges
- Presentations + Q&A
10.00 Break
10.15 Climate resilience, the individual, and communities
- Presentation
- Simmone Ahiaku keynote speech
- Panel discussion + Q&A
11.45 Break
12.00 Spotlight on projects and partnerships
- Presentations + Q&A
13.00 Lunch break
13.45 Thriving river and land environments
- Presentations
- Panel discussion
15.00 Final remarks
- Mark Lloyd keynote speech
15.30 End
View the full agenda here.
Organiser of The Rivers Trust Conference: Water at the heart of climate resilience
Healthy rivers are essential to human life, they provide us with drinking water, they water our crops, they are home to important species of wildlife, they provide recreational spaces for our health and wellbeing. Yet, only 14% of rivers are at good ecological status and have been declining over recent years.

The Rivers Trust is the umbrella organisation for 60 local member Trusts; we are the only group of environmental charities in the UK and Ireland dedicated to protecting and improving river environments for the benefit of people and wildlife.
We are proud members of Blueprint for Water, Wildlife and Countryside Link and are administrators of the Catchment Based Approach.
A member of the Rivers Trust movement, Westcountry Rivers Trust is an environmental charity established in 1995 which aims to preserve, protect, develop and improve the region's watercourses, while educating people about the value of this natural resource. Spurred by a shared love of rivers, the Westcountry Rivers Trust (WRT) is very much a grassroots organisation, brought into existence from the bottom up.