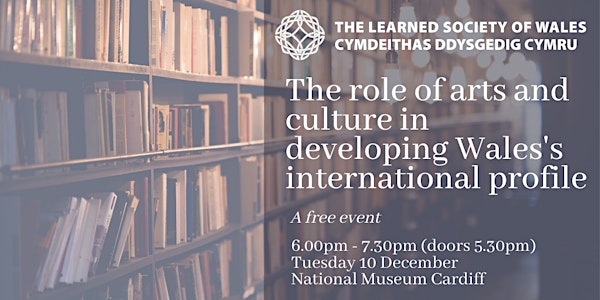 The role of arts and culture in developing Wales's international profile
Location
Reardon Smith Theatre, National Museum Cardiff
Cathays Park
Cardiff
CF10 3NP
United Kingdom
A discussion led by David Anderson, Director General of Museums Wales. Supported by Welsh Government and HEFCW
About this event
Panellists include:
- Helgard Krause (Cyngor Llyfrau Cymru/ Books Council Wales)
- Mererid Hopwood (Academic, author and poet)
- Llinos Griffin Williams (Wildflame UK)
Coinciding with the development of the Welsh Government's International Strategy, our Wales and the World series aims to expand the discussion and deepen our understanding of Wales's "soft power" assets.
Evidence from the 2016 Welsh Election Study reveals that over half of respondents considered taking pride in Wales' history, heritage or landscape, and its culture, literature and arts as an important part of what it means to be Welsh. The richness of our 'beirdd a chantorion', the creative industries, and our arts, are not simply useful tourist attractions; they are at the core of the modern, bilingual Wales.
Culture is one of our most significant 'soft power' resources, and this discussion will consider how the Welsh government's international strategy should realise the potential of the promotion and development of Wales' culture, arts and heritage.
We are keen that a broad range of stakeholders participate in these discussions, which will expand upon the soft power approaches within the Government's International Strategy.
Supported by the Welsh Government and HEFCW
*****
Gan gyd-fynd â datblygu Strategaeth Ryngwladol Llywodraeth Cymru, nod y gyfres hon o ddigwyddiadau yw ehangu'r drafodaeth a dwysau ein dealltwriaeth o asedau "grym meddal" Cymru.
Dengys tystiolaeth Astudiaeth Etholiad Cymru 2016 fod dros hanner o'r rhai a ymatebodd yn ystyried bod ymfalchïo yn hanes, treftadaeth neu dirwedd Cymru, ynghyd â'i diwylliant, ei llenyddiaeth a'i chelfyddydau, yn rhan bwysig o'r hyn mae'n ei olygu i fod yn Gymreig. Mae cyfoeth ein beirdd a'n cantorion, y diwydiannau creadigol a'n celfyddydau'n fwy nag atyniadau twristaidd defnyddiol yn unig; y rhain yw craidd y Gymru fodern, ddwyieithog.
Diwylliant yw un o'n hadnoddau 'pŵer meddal' mwyaf sylweddol, a bydd y drafodaeth hon yn ystyried sut y dylai strategaeth ryngwladol llywodraeth Cymru wireddu potensial hyrwyddo a datblygu diwylliant, celfyddydau a threftadaeth Cymru.
Rydym ni'n awyddus i gael amrywiaeth eang o randdeiliaid yn cymryd rhan yn y trafodaethau hyn, fydd yn ehangu ar yr ymagweddau pŵer meddal yn Strategaeth Ryngwladol y Llywodraeth.
Noddir can Llywodraeth Cymru a CCUAC