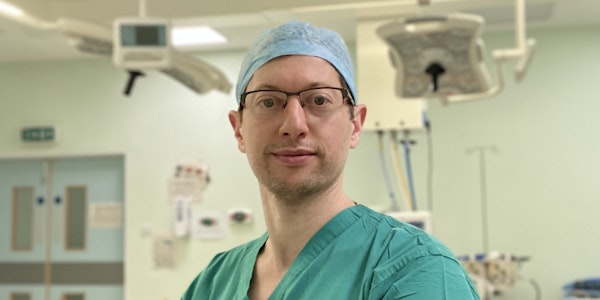 The role of ENT in extubation and tracheostomy in brain injured patients
A talk organised by the Ventilator Weaning and Extubation in Neurocritical Care Network
About this event
This talk is organised by the Ventilator Weaning and Extubation in Neurocritical Care Network. The speaker is Mr Andrew Kinshuck.
The talk will be held on Zoom, and you will receive a link when you register.
Abstract
In my role as an ENT surgeon with a specialist interest in laryngology and airway surgery I regularly see patients referred with tracheostomy problems or failure to decannulate. The neuro and spinal patients are some of the more challenging cases and the impact of long-term tracheostomy is life changing for the patient.
I work closely with a multi-disciplinary team in both a neurosurgical and spinal injuries unit to diagnose laryngo-tracheal pathologies early to achieve decannulation. I will present some of the recent cases and demonstrate the importance of early intervention in these patients.
Biography
Mr Andrew Kinshuck
MBChB, DOHNS, FRCS (ORL-HNS), MD
Consultant Otorhinolaryngologist and Head & Neck surgeon
Mr Andrew Kinshuck is an ENT consultant in Liverpool University Hospitals NHS Foundation sub-specialising in the field of laryngology and airway reconstruction.
On completion of his specialist training in Mersey deanery, he undertook the Royal College of Surgeons Fellowship in Laryngology and Airway Surgery at the National Centre for Airway Reconstruction, Imperial College Healthcare NHS Trust, London.
Following the completion of his fellowship he joined the ENT department at Aintree University Hospital in 2018. He has helped develop a regional laryngology and airway service at Liverpool University Hospital NHS Foundation Trust to complement the busy and well-established Head & Neck department.
He regularly presents nationally in his field and has published and written book chapters in the field of laryngology. His MD researched voice outcomes following treatment of early glottic cancer at the University of Liverpool.
He is actively involved in teaching and training and is faculty on numerous courses including: the Liverpool Transoral Laser Microsurgery Course, Introduction to Lasers in ENT surgery and human factors in ENT emergencies. He is the education lead for the ENT specialist trainees in North West Deanery.