A lunchtime seminar talking about the different aspects of climate repair on the road to COP26
About this event
This seminar is opened to the general public, journalists, students, academics and anyone interested in the topic.
The role of the oceans in tackling climate change: Oct 19 12-1330 BST
Chair and Facilitator: Sir David King
Speakers:
Dr Stephanie Henson
Prof Stephanie Henson is a Principal Scientist at the National Oceanography Centre and Honorary Professor at the University of Southampton. She leads an active research group in global biogeochemical oceanography, with interests in understanding natural variability and climate change effects on phytoplankton populations and subsequent impacts on ocean carbon storage. She was a lead author on the IPCC's 6th Assessment Report, on the chapter "Carbon and other biogeochemical cycles and feedbacks".
Paul Dobbins, WWF US
Paul Dobbins joined the World Wildlife Fund (WWF) in Washington, D.C. as Lead Seaweed and Shellfish Specialist. Before joining WWF he spent a decade leading the development of the country's first open ocean commercial kelp farms and operating mussel farms. Paul's current work at WWF focuses on advancing seaweed and shellfish farming for climate change gain and directing impact investing in these sectors.
Vincent Doumeizel
United Nations seaweed specialist, Vincent has led the seaweed manifesto last year and launched the first ever global platform of seaweed stakeholders worldwide, the safe seaweed coalition, with an objective to scale up seaweed industry in a safe and sustainable way. VIncent recently released the Vision Statement for Seaweed as a Climate solutions along with others stakeholders and will be at COP26 to support it.
Dr Brian Von Herzen
Dr Brian von Herzen (PhD in Computer and Planetary Sciences, CalTech) is co-founder and Executive Director of the Climate Foundation, a US registered non-profit designing nature-based solutions to meet some of the world's biggest challenges. Since 2007, Dr von Herzen has been developing Marine Permaculture offshore mariculture as a means to regenerate kelp forest ecosystem services offshore for increased food security and carbon balance. Prior to co-founding the Climate Foundation, Brian worked in Silicon Valley for over 25 years where he designed innovative technical solutions for some of the world's largest companies.
Dr Joo-Eun Yoon
Postdoctoral Research Associate, CCRC (Oct 2021~); Research Professor/ Postdoctoral Researcher, Department of Marine Science, Incheon National University (Sep 2020 ~ Sep 2021)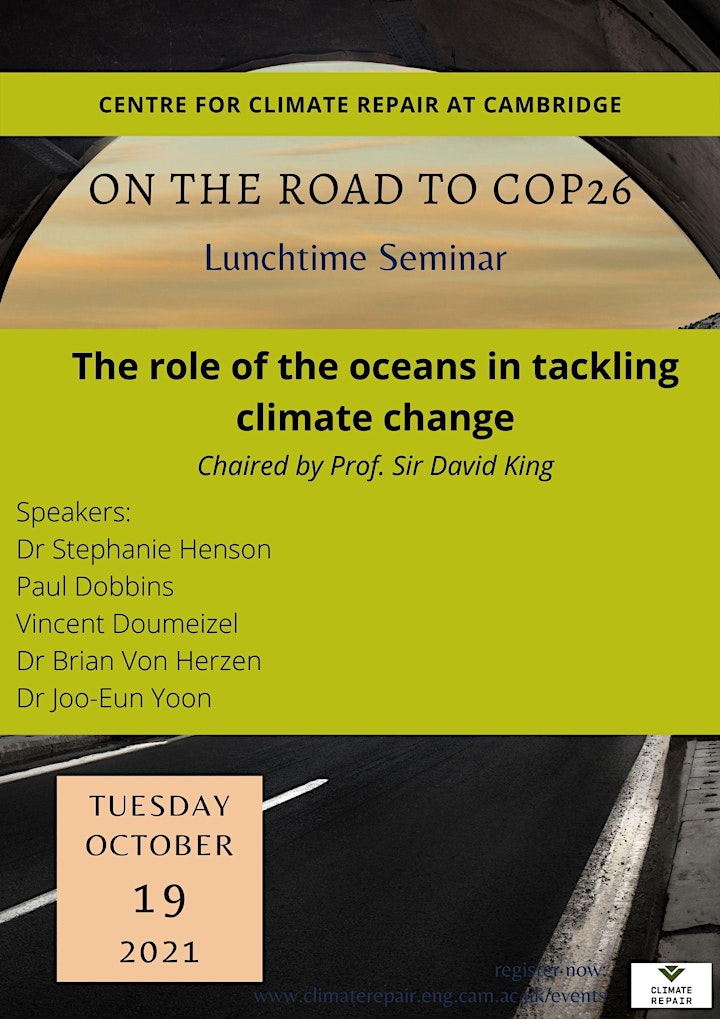 Organiser of The role of the oceans in tackling climate change