Description
An intimate family friendly festival.
Nestled in the stunning Cotswold countryside, featuring a delicious mix of music and entertainment and attended by a crowd of people so lovely you'll think we hand picked them ourselves!
It's The Rollright Fayre 2019!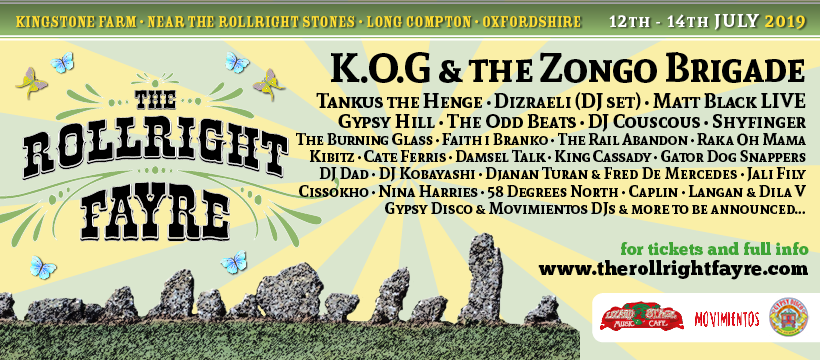 Now in its 9th year, a limited number of tickets are sold to ensure that the atmosphere stays super friendly. Fondly nicknamed by it's attendees as 'The small festival with the big heart' there's simply so much lovely stuff on offer!

Looking for a festival that's small enough you don't need to walk miles to pitch your tent but with enough clout to host a stunning array of live music, DJ's and theatrical entertainment and fun for the whole family? Then Roll up for the Rollright Fayre!

Line-up

It's The Rollright Fayre 2019!

This years line up is programmed by us , The Lizard Stage, ~Gypsy Disco~ and Movimientos
and will include musical delights such as K.O.G & The Zongo Brigade, Tankus the Henge, Gypsy Hill, Dizraeli Dj Set, The Odd Beats, Damsel Talk, Faith i Branko, The Gator Dog Snappers, Djanan Turan, The Rail Abandon, Shyfinger, DJ Kobayashi, The Burning Glass, Nina Harries, Oh Mama, DJCousCous Nick Hart, Dominie Hooper and many more..
---
WE RUN A 'PAY WHAT YOU CAN, TO SUPPORT THE FAYRE' TICKET STRUCTURE
Rollright is a truly independent festival financed by it's ticket holders - our entire budget comes from ticket sales and the onsite bar – and that's it!
We invite you to choose what you pay for your ticket based on your financial circumstances and how much you would like to support this independent festival and see it continue.
We also ask everyone to consider making a donation (however small) when purchasing your ticket, to help with the running costs of the Fayre - every penny goes to keeping this event independant, intimate and awesome!
Please be as generous as you can - thank you x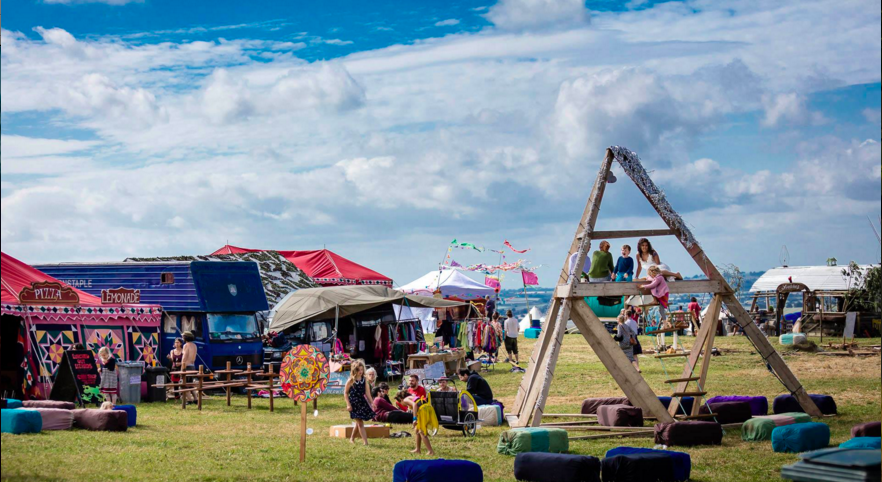 The Rollright Fayre is a very friendly festival. By purchasing a ticket you agree to abide by our rules (they're there to keep you all safe and happy) Please familiarise yourself with the following prior to coming to site:
What can/can't I bring to the event?
We operate a strictly NO DOGS policy. Guide dogs are welcome by prior arrangement. If you are coming with a guide dog, please email grace@therollrightfayre.com to let us know. Thanks
We operate a NO GLASS policy, please do not bring any onto the site. It's very important to our lovely land owner that the site is free of grass for the cows who usually live on our feild.
Drugs are no more legal onsite than they are off so please don't bring any illegal subtances onsite.
No personal sound systems (it's a small site and there is plenty of music in the main arena to enjoy).
No fire's are permitted in the campsite - please enjoy the festival fires around the site.
We kindly request that you support the onsite bars and minimise the amount of alcohol that you bring to site. Our bars are locally stocked and reasonably priced, supporting them is a big help to the financing of our event. Alcohol deemed to be in excess of reasonable consumption may be confiscated.
IMPORTANT NOTICE: We want everyone to have an enjoyable time at The Rollright Fayre. Bad behaviour will not be tolerated. Anyone found to be behaving in a manor that the organisers deem to be inappropriate or not in keeping with the family-friendly ethos of the fayre will be asked to leave site. In this case, no refund of tickets will be given. By purchasing your ticket you acknowledge that you understand this and agree to abide by the guidelines set out above and that you understand that failure to do so will result in you being asked to leave the event. The organisers decision is final. It's simple really, lets all be nice to each other and have a lovely time.
---
FAQs
Are tickets refundable?
Once purchased, tickets are non-refundable and cannot be transferred to a third party.
Can I bring my dog?
We operate a strictly NO DOGS policy. Guide dogs are welcome but must be arranged prior to the event.
Can I use my card onsite?
Please note that the entire festival is CASH ONLY (bars, stalls and gate) It's a drive to the nearest cashpoint so please make sure that you bring enough cash for the weekend to minimise trips offsite.

Do you sell day tickets?
We only sell limited day tickets under special circumstances and by prior arrangement.
Please purchase your weekend ticket in advance to enjoy all the Fayre has to offer.
Are there ID requirements or an age limit to enter the event?
If you are lucky enough to look under 25 then please bring some ID for the bar.
It is also advisable for children who look older than 12 or 17 (depending on which ticket they have) to bring some ID.
See you at the Fayre!