Description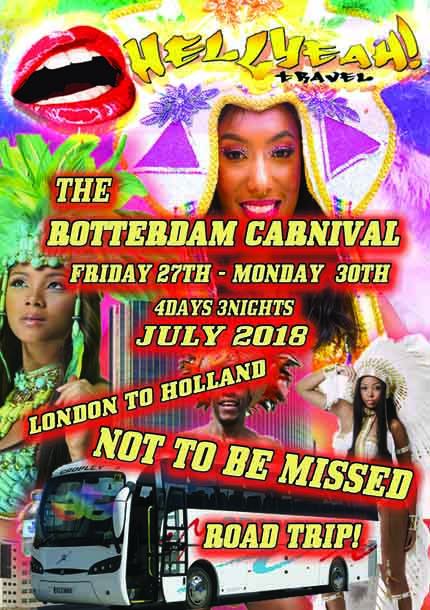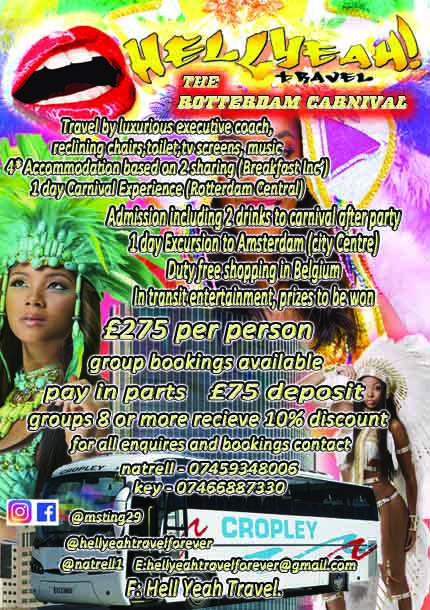 Jam In Dam The Rotterdam Carnival ZOOMER FESTIVAL
On the
Friday 27th July until Monday 30th July 2018
HELL YEAH TRAVEL ESPECIALLY INVITES YOU TOO.........
HYT Bring you to the annually organised trip Rotterdam Carnival The zomer festival
Travel in style without transfers On this road trip for the summer
Bringing to you the ppl Fun, Laughter, Games, Giveaways, and so much more.
What's in the package
Travel by luxurious executive coach, reclining chairs,toilet,tv screens, music
4* Accommodation based on 2 sharing (Breakfast Inc')
1 day Carnival Experience (Rotterdam Central)
Admission including 2 drinks to carnival after party
1 day Excursion to Amsterdam (city Centre)
Duty free shopping in Belgium
In transit entertainment, prizes to be won
Free Hell Yeah Travel T-shirt and memorabilia
Staying in the
NH Atlanta Rotterdam 4* Breakfast incl Hotel NH Atlanta is situated in one of the few monumental buildings remaining in Rotterdam. Located between the Coolsingel and the Lijnbaan, home to the well-known shopping street'Koopgoot'.
The beautiful marble floors, the Art Deco elements and chandeliers give it an authentic ambiance. This 4-star hotel occupies a unique location in the city centre, within walking distance of restaurants, cafes, shops, museums and all major attractions. We'll be right in the heart of the carnival!
IF TRAVELLING FROM OUTER LONDON
We have arranged for you to stay in one of our lovely London hotels not to far from pick up points so as to make it easier for you to make your way in the morning. Not only that you get to start the party early as you will be down one night before. Some of us will be working on that Thursday lol.
LONDON TRAVELLERS & OUTER LONDON TRAVELLERS
Pick up points: We have 2 main pickup routes that we shall be using and more maybe added along the way.
Pick up point 1: Hammersmith Apollo opposite Hammersmith station
Pick up point 2: Finsbury Park Opposite NatWest bank seven sister's road
Agenda/Itinerary
COACH TRIP: 27th July 2018
5:30: 1st pick up Hammersmith
6:00: 2nd pick up Finsbury park
6:15: Make our way to Dover to meet the Ferry
10:00: Get coach checked in and wait to board ferry
10:30 approx: Ferry leaves for Calais France
12.00: Dock at Calais board coach and exit Port on route for Rotterdam
15:00: Arrive at NH Atlanta hotel and check in
16:00: Take a quick walk to the shops for some amenities and groceries
18:30 walk over the Erasmus Bridge / Familiarize ourselves with the area
19:30 dinner on the harbor
21:00 carnival drummer's battle of the bands in the town center
22:30 nightclubs plus check out loads of other bars and parties
Saturday 28th July
12:00 carnival & shopping – travel back and forth to hotel as you wish
22:00 Carnival After Party
Sunday 29th July:
12:00: board coach for Amsterdam
13:00: Arrive in Amsterdam
18:00: board coach for Rotterdam
19:00: Arrive back at hotel
20:30: Euromast - Dinner @ 100 meters above Rotterdam
22:30: live show or party night- TBC wear something White.
PACKAGES FROM
£275*pp
Prices are (London)
£75 deposit (non-refundable) Required to reserve your place
Final Payments due no less than 2 weeks before travel
TRAVELLING FROM OUTER LONDON YOUR FARE DOES NOT INCLUDE TRANSFERS TO OR FROM LONDON YOUR FARE IS BASED ON THE ABOVE MENTIONED POINTS.
All travel insurance is taken care of by the guest, or this can be arranged and added to your final payment.
From £275* via coach per person
Prices are (Outer London) includes hotel overnight in London
From £325 via coach per person
All travel insurance is taken care of by the guest, or this can be arranged and added to your final payment.
Please ensure you have a VALID UP TO DATE PASSPORT AND VISA (if necessary)
All payments for you journey are secure and can be made via
Pay pal Bank Transfer
Cash
Group packages available
Terms and conditions apply
Strictly over 18's event
For more info please call or email