A walk that takes you to a steam train ride & a gem of a railway museum - a collaboration with Middleton Railway Trust Ltd
About this event
From 1758, horses pulled carts of coal into Leeds from Middleton Colliery. In 1812 a new age began – not just for this short stretch railway but also for Britain and the world. Engineer Matthew Murray, of the nearby Round Foundry in Holbeck, was commissioned to build a steam locomotive to pull the wagons into Leeds. With his successful first engine, Salamanca, in service, the colliery owner could out-compete his rivals in supplying the fuel that powered the industrial age.
The railway ceased to operate commercially back in the mid-20th century, but we can trace parts of the route of the return journey from the site of the coal staith near Leeds Bridge up to Moor Road in Hunslet. We take in various important railway-related sites along the way, including the area that produced thousands of locomotives between the 1830s and 1990s. Engines went to almost every country in the world during this long era.
When we reach Moor Road station and museum you'll be able to take a steam-hauled service to Middleton Park at the special price of £5 per person for a day ticket. Before or after a train journey you can see the impressive collection of locos, other artefacts relating to the historic railway (including a model of Salamanca) and fascinating interpretation boards. Refreshments and toilets are available. More information here: https://www.middletonrailway.org.uk/
Walking tour tickets: £10 each, and up to 3 children go free.
Leeds Bridge to Moor Road is approximately 2 miles.
Meet on Leeds Bridge – downstream side near the Leeds crest.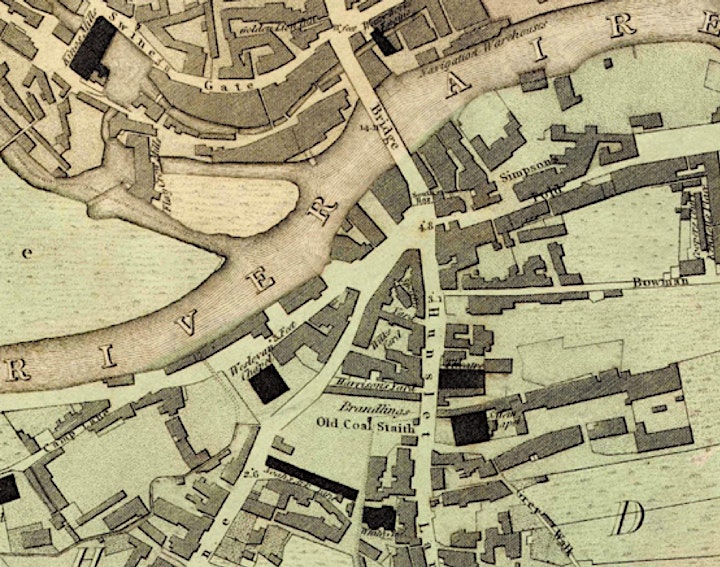 On this excerpt from the 1815 map, you can see the position of the old coal staith, just south of Leeds Bridge.
'Matthew Murray' – an engine built in Leeds by Manning Wardle, 1903. It's now used for pulling carriages full of visitors along the line between Moor Road and Middleton Park.
Photo courtesy of Middleton Railway Trust Ltd