The Royal Ypriana Wind Band from Ypres, Belgium are joined by musicians of The Household Division in a collaboration of musical excellance
About this event
ROYAL YPRIANA WIND BAND TO CELEBRATE 100th ANNIVERSARY IN UK
During 1920 amongst the ruins of a devastated city of Ypres, people gradually started rebuilding their homes and their lives. Musicians that had earlier been part of several ensembles joined forces and decided to establish a new music society, named YPRIANA. The band has played a major role in the city's cultural and musical life ever since and was granted the title "Royal" in 1960.
Exactly 100 years after its formation, the Royal Ypriana Wind Band is still a musical ambassador for the city, performing at the highest musical level in concerts and international competitions, while also contributing to the many acts of commemoration in Ypres and elsewhere. Each year on Armistice Day the Last Post Association, Ypriana and local choirs join forces in the concerts "The Great War Remembered" at Ypres Cathedral.
The Royal Ypriana Wind Band thus maintains close ties with the city of Ypres and with the Last Post Association, and is thrilled to celebrate its centenary by travelling to the United Kingdom, accompanied by a delegation of buglers .
For this international adventure, Ypriana has found partners in Southwark Cathedral, London where it will be joined by The Central Band of The Royal British Legion in a Gala Concert on Thursday 16th April.
On Friday 17th April, the band will perform in Guards' Chapel the spiritual home of the Household Division, the only Royal Military Chapel in London. The concert will feature musicians from Household Division Bands. Each performance will be supported by buglers from The Last Post Association.
More information:
John Underhill MBE
Email: j.underhill@doccombe.com
01725 514655 / 07768 533751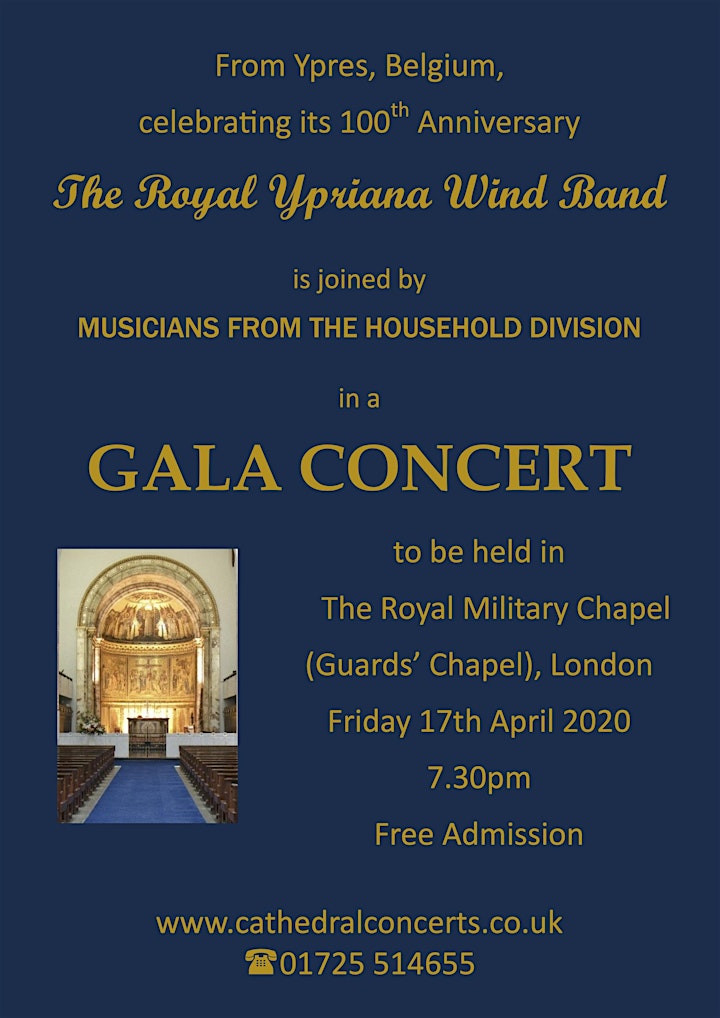 Organiser of The Royal Ypriana Wind Band in Concert
The Household Division organises events on behalf of The Guards Chapel and The Household Division Charity.
Do you know someone who needs help?

The Household Division Charity has resources set aside for helping with the welfare of serving and retired members of the Household Division and their families too. Recent help has gone to veterans especially those wounded on operations, to widows and to bereaved families including parents and children. If the Household Division Charity cannot help, Headquarters Household Division will provide a link to the Regiments and other charitable organisations.

To request the Household Division Charities help. Please contact:

Major William Style

Telephone Number: +44(0)207 414 2270

Email: treasurer@householddivision.org.uk

The principle application of this welfare support is in maintaining contact and providing enduring access to support when needed. The Household Division Charity Embraces all 7 Regiments of the Household Division,