Description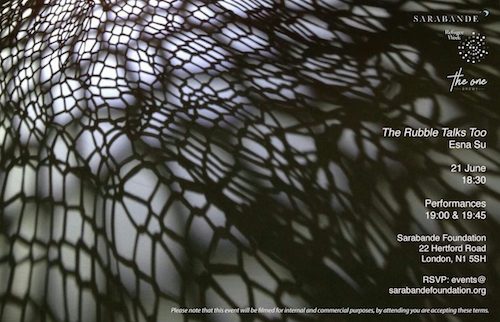 The Rubble Talks Too is a journey of uprooting and flight. With fourteen performers representing the fourteen regions of Syria, Su's sculptures are given life when worn. They become a symbol of a life that was left behind.
For Esna's first show at Sarabande Foundation, The Rubble Talks Too is a performance that aims to represent the journey of refugees; those who are forced to flee in the middle of the night, grabbing only a few belongings but leaving behind the place where they belong.
In this performance the audience is witness to a country united. 'Regions' are wrapped in a swaddling cloth of tight white muslin, which maintains harmony and encourages peace between the differing communities. When the war comes this unity is destroyed and, as they escape conflict, walls are built on their way.
Su's hollow shells, worn by the performers in The Rubble Talks Too are a metaphor for their enduring struggle. To create the unique shape of each piece Su moulds the knitted leather cords around a collection of cherished objects, making the pieces a reminder of a life left behind - an invisible yet burdensome reminder of their past. Su uses traditional Turkish methods of crochet, knitting and weaving to make the seemingly organic cells that extend the body of the performers.
These pieces are from Su's collection The Refugee and the Burden, a series of transformational and wearable sculptures that explore the struggle of displacement. It reflects the experience of displaced people on the road and in sprawling refugee camps, like in Su's hometown of Antioch, Turkey. By presenting this work during London Refugee Week 2017, Esna Su aims to mirror the loss and destroyed lives of refugees by shifting the way they are perceived and depicted everyday in the media.
@Esna_Su @sarabandefoundation @refugeeweek
About Sarabande
Sarabande was established up by the late Lee Alexander McQueen to support artists and designers who are creatively fearless. The main support strands are scholarships for seven Universities across the UK and subsidised studios for artists and designers who are based in our converted Victorian stables on Regent's Canal in East London.
Esna Su has been an artist-in-residence at Sarabande since 2015
Please note that this event will be filmed for internal and commercial purposes, by attending you are accepting these terms.