The safety net beneath the safety net? Local welfare assistance in the NE
An interactive, online workshop on local welfare assistance in the North East, hosted by the North East Child Poverty Commission.
About this event
This briefing set out that local welfare assistance schemes – delivered by councils across England since 2013 – should provide accessible, timely and dignified support to people facing a financial emergency; acting as 'the safety net beneath the safety net' of an adequate national social security system, to protect people from serious hardship and harm.
Join NECPC and our guest speakers for this interactive online workshop to hear more about the findings and recommendations of this briefing, and to discuss how we can work together to improve local welfare assistance schemes across the North East.
During the event, you will hear from our speakers:
Amanda Bailey (Director, North East Child Poverty Commission)
Graham Whitham (Chief Executive, Greater Manchester Poverty Action)
Sabine Goodwin (Co-ordinator, Independent Food Aid Network – IFAN)
We will also hold a number of break-out discussions to consider the issues raised during the event in more depth.
This online workshop will be held via Zoom, with registered attendees receiving joining details shortly ahead of the event date.
Please note this event will be recorded to ensure contributions to it are captured accurately. When registering for this event, we will use the data you have provided in order to process your registration and keep you informed about any changes. Contact details will not be shared with third parties.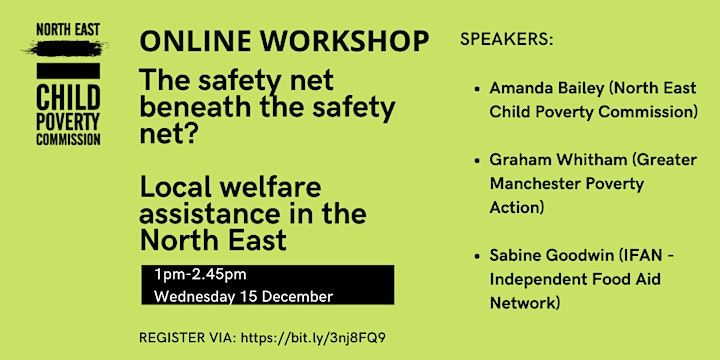 Organiser of The safety net beneath the safety net? Local welfare assistance in the NE