Description

Dissecting the school leaver market with data-led insight and unrivalled multi-stakeholder expertise.


Whether you are a careers adviser, employer or training provider, it has never been more important to stay on top of the changes in education.
The School Leaver Conference is a two-day event bringing together students, parents, schools, employers and empirical evidence, in order to build relationships and knowledge. We dissect the school leaver market with the 2017/18 release of our 55,000 participant longitudinal research and unrivalled expertise from across the spectrum.
With speakers from:
Ofsted, Ofqual, Careers Development Institute, EY, PwC, Civil Service, Central Careers Hub, Assocation of Graduate Recruiters and more.


WHO SHOULD ATTEND
Friday 29 September, 10am - 4pm

CAREERS ADVISERS / SENIOR LEADERS & EMPLOYERS
2017 has been an important year for post-16 options. The apprenticeship levy, the introduction of apprenticeship standards and changes to the GCSE grade system and increased conversations around the approach to education in the UK. It has never been more vital to stay on top of the changes in education.
The government is aiming for three million apprenticeship places by 2020, which has presented a sizeable challenge to all involved: employers to provide them, training providers help deliver them and schools/colleges to better holistically educate their students and teachers on the options.


SESSIONS INCLUDE:
Making better choices -

Stephen Keith,

EY

Giving the right advice to young people about apprenticeships - Chris Jones, Ofsted

How to engage, educate and obtain internal buy-in for apprenticeships - Emma O'Dell, BPP Professional Education

What will the apprenticeship landscape look like in 5 years time? - Euan Blair, White Hat

Research on Graduates vs. School leavers - Sam Gordon, Association of Graduate Recruiters

How can we help young people understand themselves better? - Andy Garder, Central Careers Hub
WHY YOU SHOULD ATTEND: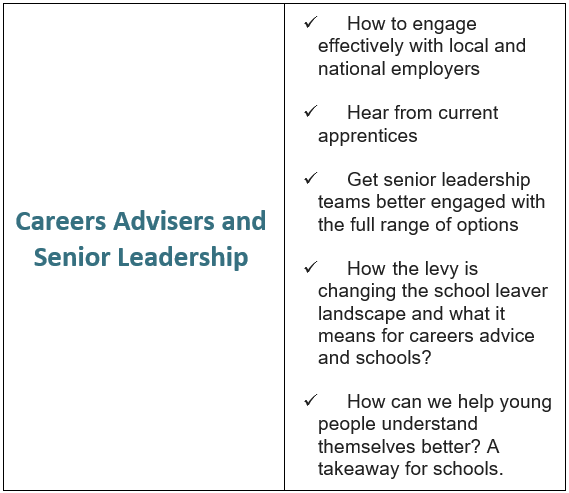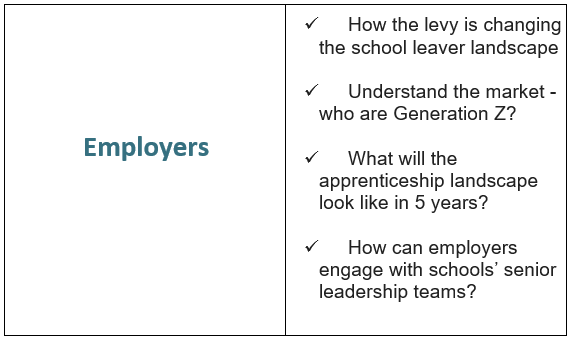 For full details on the schedule and speakers, visit the conference website: SchoolLeaverConference.co.uk