The School of Radiant with Claire Baker [Brisbane]

Sunday, 3 May 2015 from 10:30 am to 4:00 pm (AEST)
Event Details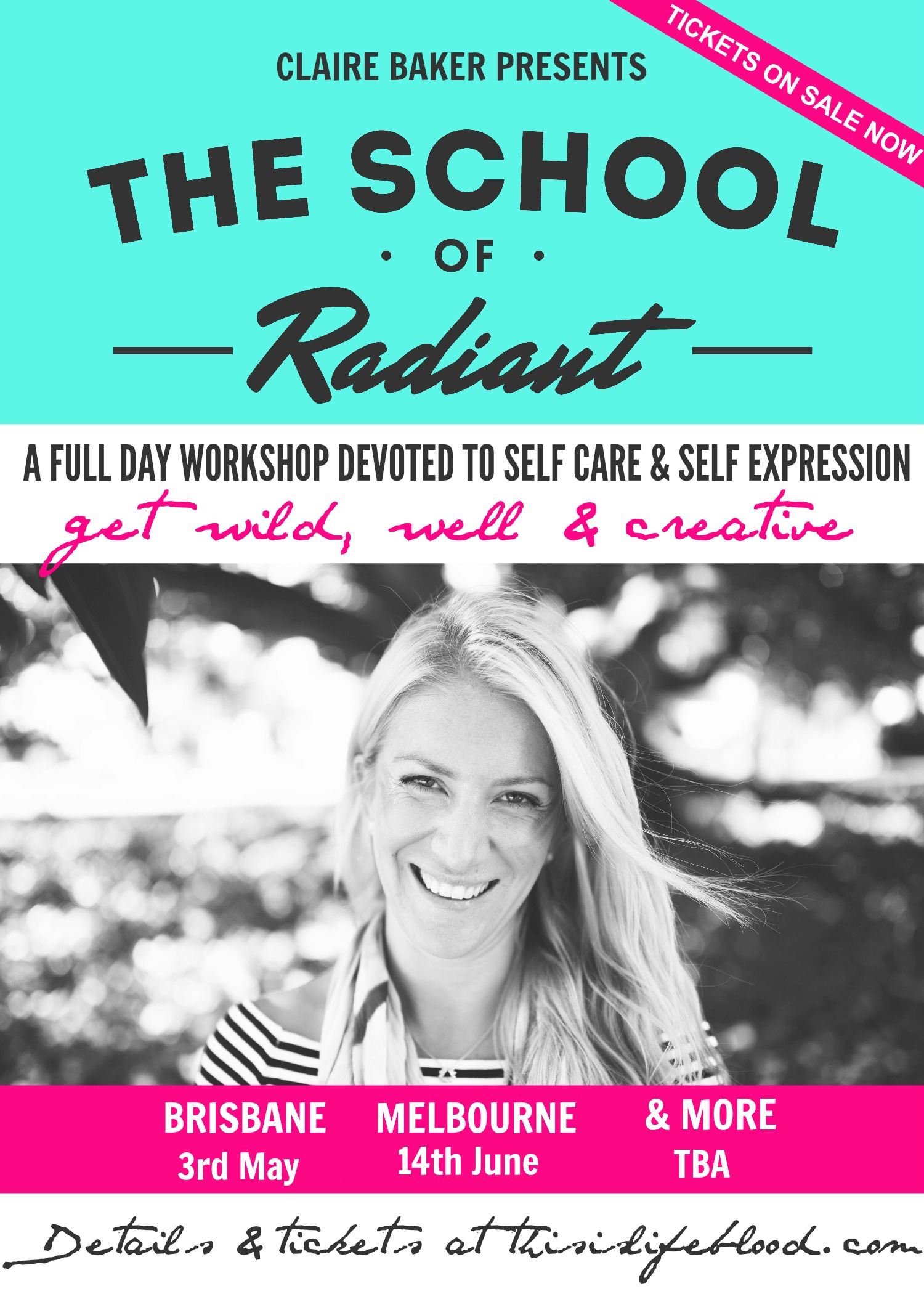 I'm thrilled to bring you 'The School of Radiant', a full day workshop devoted to self care and self expression. A safe, playful space for you to get wild, well and creative.
Infusing self care practices with clarity-creating exercises and soul-stirring yoga, dance and art, The School of Radiant is a total immersion in YOU and your unique intentions, gifts and desires.  
To be radiant is to capture the true essence of who you are and to unshakeably beam that out into the world. But in order to do this divine, creative work – to follow our true calling – we've gotta be well.
And whether you're feeling uninspired in your creative practice or just looking to reignite this vital side of your personality – often all we need is space to explore and experiment.
Let me provide that space for you.
Let's explore and embrace this relationship between self care and self expression, together. 
We'll cover delicious topics such as:
+ Why wellness is essential to your creative practice
 + Getting to know the creative process: what does yours look like? What inspires you? How can you best support - and nurture - your innate creativity? 
+ How to create a sustainable self care practice that feels supportive - rather than 'another thing to do'
+ Comparison: how your inner critic and idolisation of others keeps you small
+ How to feel more wild, playful and feminine in your day-to-day life
+ Curiosity, play and experimentation
+ Creating space: immersion, organisation, retreating and saying NO
+ Living life 'in alignment' and being fully expressed
+ Creativity and vulnerability: leaning into the risk of "being seen"… AND the reward
+ Exploring the power of the seasons and moon cycles to support your wellness and creative practice and find your FLOW
Of course, it wouldn't be a school without incredible teachers, so each city will have a guest yoga teacher lead us through an awakening yoga practice to open our body and our hearts. 
Brisbane, we've got the divine Emma Shields (http://emmashields.com/) joining us to share her yoga love with us.
Together, we'll combine self care practices such as journalling, meditation and creativity with life-coaching exercises that I've used with almost 200 women to leave you feeling spacious, aligned and energised.
PLUS:
+ You'll enjoy a nourishing lunch and treats.
+ We'll be getting our hands dirty; putting pen to paper, making, dancing, moving.
+ You'll connect with a tribe of like-minded women, who (like you) are inspired by living a full life. 
+ Worksheets, gifts and a few other surprises…
WHO IS THIS WORKSHOP FOR?
I truly believe that everyone is creative and that tapping into this space opens the floodgates for increased vitality, happiness and living a life laced with purpose and passion. 
But more specifically, women who are craving a space to feel nourished, connected and free to explore their unique radiance through self care and self expression.
You might be an entrepreneur who is craving some sweet feminine connection, a Mum who needs a day all to herself or maybe you're just ready to dive deeper into WHO YOU ARE.
Basically, babes who are ready to recalibrate, refuel and get wild, well and creative.
WHAT DO I NEED TO KNOW?
You'll need to wear comfortable, yoga-appropriate gear and bring with you a pen, coloured pencils, a notebook and an open mind. 
SHOULD YOU COME ALONE OR WITH A FRIEND?
Completely up to you! It might be a fabulous day to spend with your soul sisters, or maybe you'd like to ride solo. There will be ample opportunity to connect with one another throughout the day. 
HOW MANY TICKETS ARE AVAILABLE?
I'm keeping this workshop intimate, so you can get the most from the day. There will only be 20 spots available, and these WILL sell quickly. Basically gorgeous, if you want to join us - jump in now! 
CAN I GET A REFUND IF I CAN'T GO?
Unfortunately I am unable to offer refunds for this event. You are of course welcome to pass on your ticket to a pal if you can't make it. 
WHERE CAN I CONTACT THE ORGANISER WITH ANY QUESTIONS?
Find me on claire@thisislifeblood.com 
I can't wait to see you there! 
When & Where

Soul Space Brisbane
23 Parker Street
Newmarket, QLD 4051
Australia

Sunday, 3 May 2015 from 10:30 am to 4:00 pm (AEST)
Add to my calendar
Organiser
Claire Baker is a certified coach, passionate writer and speaker and author of 'She Is Radiant: Your 6-Week Wellness Adventure To Get Glowy & Feel Rad'. Claire guides vibrant women towards a life ripe with greater confidence, less stress, improved relationships and clear complexions. She'll have you throwing out the scales, booking the flight, launching the blog – and falling back in love with your life.
Claire believes in the power of exquisite self care for radical self expression. Through her authentic and empowering blog, eBooks and live workshops you can consider Claire your personal advocate for living an energised, playful and heart-centred life.