Location
The Showroom Chichester
College Lane
Chichester
PO19 6PE
United Kingdom
Sales Have Ended
Registrations are closed
Ticket sales have now ended. The University of Chichester will be hosting more exciting events in the future. Please see www.chi.ac.uk/events
Open conference focusing on drumming-based research undertaken over the past 20 years by academics from the Clem Burke Drumming Project.
About this event
Key observations and findings will be shared using an interactive approach from a neuroscience, exercise physiology, health and exercise psychology perspective. To conclude, a vision of the future will be presented highlighting opportunities for new drumming based collaborations.
Hosted at Bishop Otter Campus, Chichester, West Sussex, PO19 6PE.

Professor Marcus Smith, Professor of Applied Sport and Exercise Science, University of Chichester: Marcus is a co-founder of the Clem Burke Drumming Project (2008), having first started exploring the physiological demands of drumming in 1999 with Clem Burke (drummer, Blondie). Over the past 20-years Marcus has championed the use of drumming as an intervention to enhance physical and mental wellbeing, as seen during Owain Wyn Evans BBC Children in Need 24-hour Drumathon – raising over £3.81million.
Dr Ruth Lowry, School of Sport, Rehabilitation and Exercise Sciences [SRES] Director of Research, Reader in Exercise Psychology, University of Essex: For over a decade Ruth has played a key role in helping us understand more fully the psychosocial benefits of group drumming for children with emotional and behavioural difficulties. Through adopting a mixed-methods approach to gathering evidence, the voice of the child has been heard and shared, along with insights from stakeholders involved in their development.
Prof Steve Williams, Head of Department, Professor of Imaging Sciences, King's College London: Steve is so old he was the first person to get a PhD in Magnetic Resonance Imaging (MRI) from Cambridge. He's stood alongside enough scanners to now be regarded as a specialist in brain imaging research. During the past decade he has collaborated with Prof Marcus Smith on a range of projects which include the effect of dehydration on brain structure and the positive impact of drumming on brain function.
Vicky O'Neon, Professional drummer, youtuber and educator, UK. Originally from Finland, Vicky is a co-founder of the non-profit music organisations Girls Rock London and Rock Donna. Recognised as a leading light within the drumming profession, Vicky has performed at major events (most recently the Queen's Platinum Jubilee shown on ITV), worked with world class artists (including, Brian May and Hans Zimmer) and supported charitable causes (such as, Owain Wyn Evans BBC 24-hour Children in Need Drumathon).
Prof Steve Draper, Academic Dean, Professor of Exercise Physiology, Hartpury University, UK. Steve is a co-founder of the Clem Burke drumming Project (2008) and undertook the first research exploring the estimated energy expenditure of rock/pop drumming with Clem Burke (drummer, Blondie) in 2004. Steve regularly shares his scientific observations with the general public, a particular highlight being a presentation to the Royal Society of Chemistry in 2015 with Robin Guy (drummer, Sham 69).
Event agenda
Conference speakers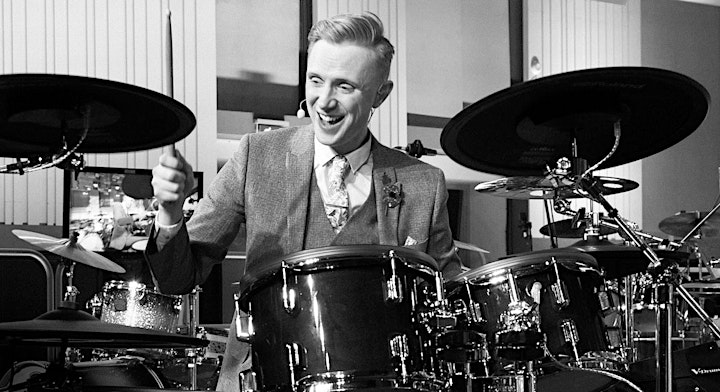 More about the Clem Burke Drumming Project
The Clem Burke Drumming Project (CBDP) was founded in 2008 by Dr Clem Burke (drummer, Blondie), Professor Steve Draper (Hartpury University) and Professor Marcus Smith (University of Chichester).
What initially set out to examine the physiological demands of playing 'live' during one-off (i.e. Glastonbury) and multiple gigs (i.e. World Tour) has grown into exploring the physical, mental and health benefits of drumming.
Filming
Please be advised that filming and/or photography will be taking place. If you do not wish to appear in any images captured please tell us so that we can take appropriate steps to ensure you are not included.
The photographs/film will be used by the University of Chichester for publicity. They may also be included in University publications, promotional materials, or the media, and may also be used on the University website.