Event Information
Refund policy
Contact the organiser to request a refund.
Eventbrite's fee is nonrefundable.
CCARHT 's fifth annual symposium ON LINE a unique opportunity to experience top quality analysis on the SDGs and Human Trafficking impacts
About this event
This year's fifth symposium is a fascinating and important engagement ten years in from the completion of the SDG's first plan of delivery 2030. With Human Trafficking present in all corners of the globe, and now a global pandemic squeezing down on the economies and the social protection available in most of the nations of the world, Human Trafficking vulnerabilities will be seriously exacerbated.
CCARHT has gathered experts in their fields from across the nations. As a multi disciplinary research hub, over 60 experts in the field of climate change, migration, business and supply chain resilience, trauma recovery, public health, gender equality, child safeguarding, adoption and institutional care, business and technology, enforcement and prosecution, education, work-place protection, agriculture and fisheries industries, and international banking, have been gathered to walk through the different aspects of how 6 of the key Sustainable Development Goals have particular relevance to addressing Human Trafficking in these peri-pandemic days with a hopeful agenda for action to propose for post pandemic times.
Sessions can be accessed individually - with discounts for whole day passes and attendance for the week. Certificates of attendance are available for specific days attended from CCARHT, along with a certification from the University of Nicosia on day 5 (the session dedicated to technology). A CCARHT recognition of professional development certificate will be issued for those who attend the full five days. Please ensure that you keep your tickets for evidence of attendance when requesting your certification from contact@ccarht.org at the end of the week's symposium (available from the 12th July 2020.
Don't hesitate to be part of these seminal seminars, which will raise challenges and fresh dimensions to the multi faceted problems emerging in Human Trafficking in all its variations. As a delegate you will be able to put your questions directly through the chat facility, to leading experts, survivors, and commentators on contemporary Trafficking, as they think through the next steps in countering trafficking criminality peri and post Covid 19 times.
* Ideal for rising final year students looking for areas to address and networks to make in their final year dissertations
*PhD students engaged in Law, Health, Education, Business, Ethics, International Relations, Child Studies, Migration, Land Economy, Climate Studies, Criminology, Social Sciences.
*NGO policy leads working in Human Trafficking, Modern Slavery, and wanting to widen your understanding and find fresh collaborators and partners
*Law enforcement - those working in training, investigation, community engagement, preparation for prosecution, and current cases.
*Local Government, Central Government and Regional Government officials and policy advisers
*IGOs and NGOs working in children's rights, migrants rights, education, health, business, decent work, and climate change impacts.
*Faith leaders - seeking improved understanding of what communities 'on the ground' can operationalise to make key differences which interrupt the Trafficking cycle
*Journalists seeking further in depth understanding and fresh insights into Human Trafficking and Modern Slavery in Covid 19 times
*Educators - from Further Education in particular, and Higher Education faculties seeking to engage with the Sustainable Development Goals and their relevance to social challenges of the next decade.
*Health Workers and Public Health officials seeking to understand the wider context of Human Trafficking at national, regional and international levels.
People seeking rapid insight into the intricacies of Human Trafficking and the skill sets required as preparation for professional/ researcher engagement in the field of harnessing SDG goals and addressing this heinous crime and human rights violation.
The symposium language is English
Session lengths are from one and a half hours to two and a half hours.
There are eighteen sessions in all for the full symposium to be completed.
There is no minimum attendance.
Those seeking further group discounts should be directly in touch with the administrator at contact@ccarht.org where larger groups are seeking access (minimum of 20 members)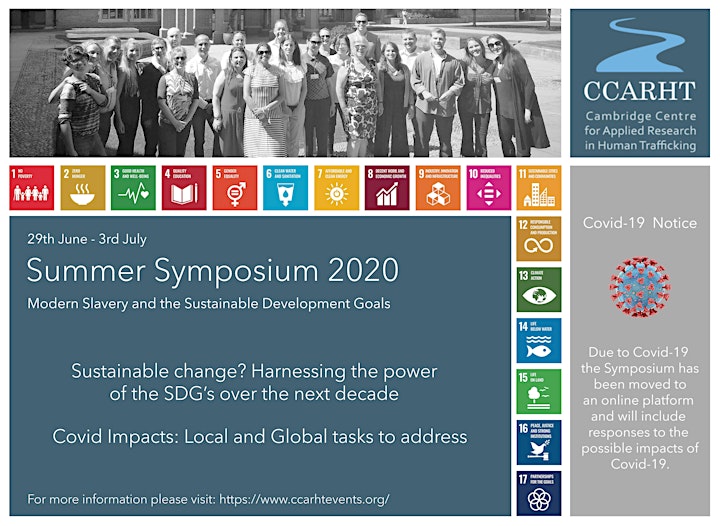 Date and time
Location
Refund policy
Contact the organiser to request a refund.
Eventbrite's fee is nonrefundable.
Organiser of The SDGs & Human Trafficking: Covid times summit. CCARHT ON LINE Symposium
CCARHT works with the Centre of Global Human Movement, the Cambridge Centre for Social Innovation and the Institute of Criminology, at the University of Cambridge, and brings academics, policy makers, NGO project directors and CEOs, business, law makers and prosecutors to an annual symposium, held at the Judge Business School in the first week of July every year.  Currently in Pandemic times all offerings from CCARHT are ON LINE>
CCARHT is a not for profit, community interest company, and welcomes expressions of interest in our work, sponsorship of the significant policy informing work of our annual Symposium. 2021 will see the Symposium's subject, the meaning and impact of Covid 19 and enhanced Public Health co-operation globally to resist the ongoing collapse of social protection resilience, leaving millions more in the pool of those who are vulnerable to Human Trafficking recruitment and exploitation.
We would love to see a substantial number of Southern economy delegates being able to attend this significant event in the research and advocacy calendar. If you would like to be a sponsor for them and the contribution that their research will bring to the symposium, or bring your expertise into volunteering as a CCARHT ambassador/intern for this academic year, please be in touch directly with- director@ccarht.org.  
For more information on the outputs of CCARHT's symposia and seminars drop onto our pages www.ccarht.org/site/library