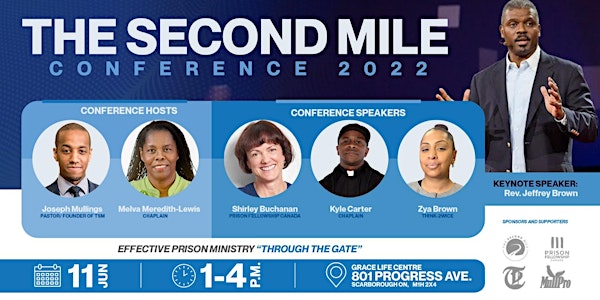 The Second Mile: Effective Prison Ministry "Through the Gate"
Event Information
Location
Grace Life Center
801 Progress Avenue
Toronto, ON M1H 2X4
Canada
To inspire Churches with aspirations for effective outreach to access training and resources to divert & disrupt crime and aid reintegration
About this event
"If anyone forces you to go one mile, go with them two miles."
Matthew 5:41 (New International Version)
How Churches can do more to:
Support ex-offender reintegration/rehabilitation
Violence reduction
Crime disruption &
Crime diversion
Keynote Speakers:
Rev. Jeffrey Brown - his TedTalk (below) on the "Boston Miracle" has amassed over 1.1 million views; he will share his testimony on how, by God's help, through outreach and Christian coalition, the crime rate in Boston was reduced by 79%.
Shirley Buchanan, Prison Fellowship Canada - will provide a plethora of ways to get involved in supporting resettlement and rehabilitation, giving churches and passionate people an accessible first step into supporting people prior to and on release from prison
Chaplain Kyle Carter - as a young, Black, Male Chaplain, with extensive experience in prisons and delivering programs in communities, he will inspire action and shed light on the need for more volunteers and professional chaplains from the Black Community. Check out his podcasts: 'A family that heals together'
Zya Brown - founder of "Think 2wice" - will be present to discuss her experience in disrupting criminal activity through drama and programs delivered in prison and the community. As an organization they have demonstrated Christian compassion for young people and used gifts in creative arts to deliver disruption interventions in the heart of Toronto.
Date and time
Location
Grace Life Center
801 Progress Avenue
Toronto, ON M1H 2X4
Canada