Description
At the height of the hedonistic Jazz Age, many in British society became convinced that they were under attack from the new Soviet state. Still reeling from the Russian revolution of 1917 and deeply paranoid about the recent wave of Russian immigration to the UK, the British government tasked the intelligence services to look for evidence of espionage.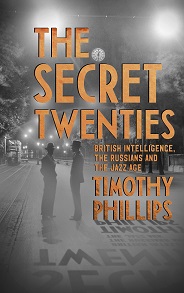 Join Timothy Phillips at Heffers as talks about The Secret Twenties, drawing on a wealth of recently declassified and previously unseen material, shining fresh light on a glamorous decade, and offering a gripping account of the lives of the first Soviet spies, the British Secret Services that pursued them and the double agents in their midst.
Tickets are priced at £4 and can be purchased through this page, by calling 01223 463200 or in person at Heffers bookshop. Please note that tickets are transferable but not refundable.

Timothy's new book The Secret Twenties: British Intelligence, the Russians and the Jazz Age will be available to purchase at the event and he will be signing copies after the talk.
Like this event? See our full programme here.